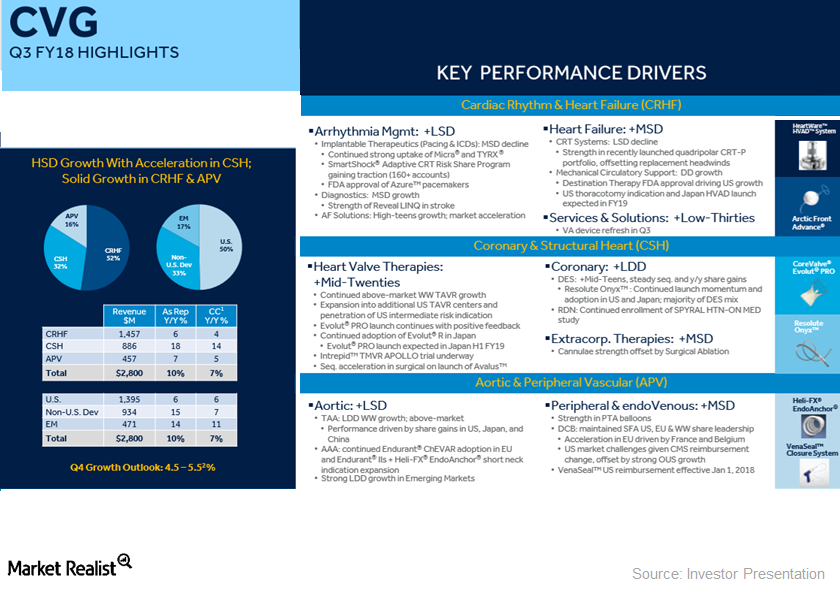 What Drove Medtronic's Cardiac and Vascular Group in 3Q18
Cardiac and Vascular Group in fiscal 4Q17
Medtronic (MDT) reported total sales of ~$7.4 billion in fiscal 3Q18. Of that total, ~38% (~$2.8 billion) was contributed by Medtronic's CVG (Cardiac and Vascular Group). CVG sales grew ~10% YoY (year-over-year) and ~7% on a constant-currency basis.
US CVG sales grew ~6% YoY, while developed nation CVG sales grew by a strong 15%, primarily driven by favorable currency rates. In emerging markets, CVG sales grew by double digits, by 14%. In 3Q18, CRHF (Cardiac Rhythm and Heart Failure) sales grew ~6% YoY, CSH (Coronary and Structural Heart) sales grew ~18% YoY, and Aortic and Peripheral Vascular sales grew ~7% YoY.
Peers Edwards Lifesciences (EW), Boston Scientific (BSX), and Abbott Laboratories (ABT) reported YoY sales growth of 15.7%, 9.9%, and 42.3%, respectively, in their recently reported quarters.
Article continues below advertisement
Article continues below advertisement
Growth drivers
Medtronic reported strong growth across all of its business segments in 3Q18. CVG divisions all performed strongly, leveraging its broad product portfolio, which has expanded with the company's recent product launches.
In the CRHF division, new infection control products, transcatheter pacemakers, atrial fibrillation solutions, and diagnostics registered growth in the mid-20s.
The CSH division grew in the mid-teens, primarily driven by the Japanese and US launch of Resolute Onyx and the company's transcatheter aortic valve replacement business, which registered growth in the low 30s.
APV sales grew ~7%, driven by strong emerging market growth and share gains by a number of products in the APV portfolio.