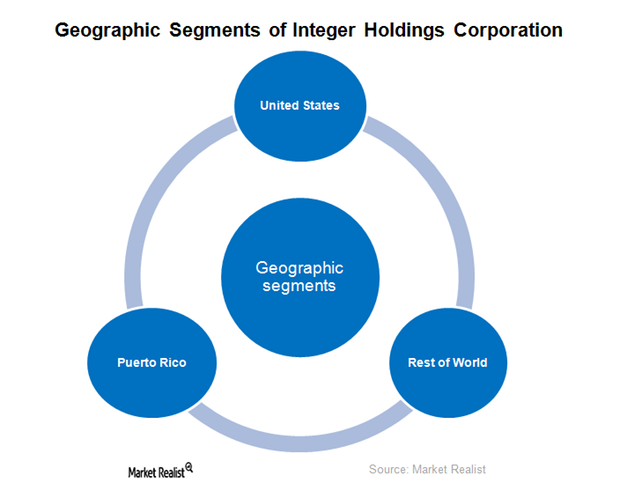 The Geographic Segments of Integer Holdings Corporation
<p>Integer Holdings Corporation provides custom battery packs to energy, military, and environmental markets for use in extreme environments.</p>
Power solutions
Integer Holdings Corporation (ITGR) provides a wide range of cell technologies. The company's batteries are used to power more than 100 external medical devices. It provides complete mission-critical batteries and other power solutions.
The company's power solutions portfolio includes customized rechargeable batteries, chargers, and nonrechargeable batteries. The company develops batteries and chargers for patient monitoring, portable defibrillators, portable ultrasound, X-ray machines, and hearing devices.
Article continues below advertisement
Article continues below advertisement
Non-Medical segment
Integer Holdings Corporation provides custom battery packs to energy, military, and environmental markets for use in extreme environments.
Revenues from the Non-Medical segment grew from $41.6 million in fiscal 2016 to $56.9 million in fiscal 2017, which represented growth of 37.0% primarily due to recovery in the energy markets.
Debt levels
At the end of December 2017, the company's total outstanding long-term debt was $1.5 billion compared with $1.7 billion at the end of fiscal 2016. The debt-to-equity ratio for Integer Holdings Corporation stands at ~2.0.
For its peers Halyard Health (HYH), Zimmer Biomet Holdings (ZBH), and Stryker Corporation (SYK), this ratio stands at 0.49, 1.0, and 0.72, respectively. This metric shows that Integer Holdings has taken on significant debt and that its debt levels are much higher compared to its peers.
Geographic segments
Total revenues of Integer Holdings Corporation come from three geographical segments: United States, Puerto Rico, and the rest of the world. More than 50.0% of the total revenues come from the United States, which contributed $862.2 million in revenues in fiscal 2017.
Revenues from Puerto Rico and the rest of the world were $133.7 million and $465.8 million, respectively, in fiscal 2017.
In the final part of this series, we'll look at the financial performance of Integer Holdings Corporation.