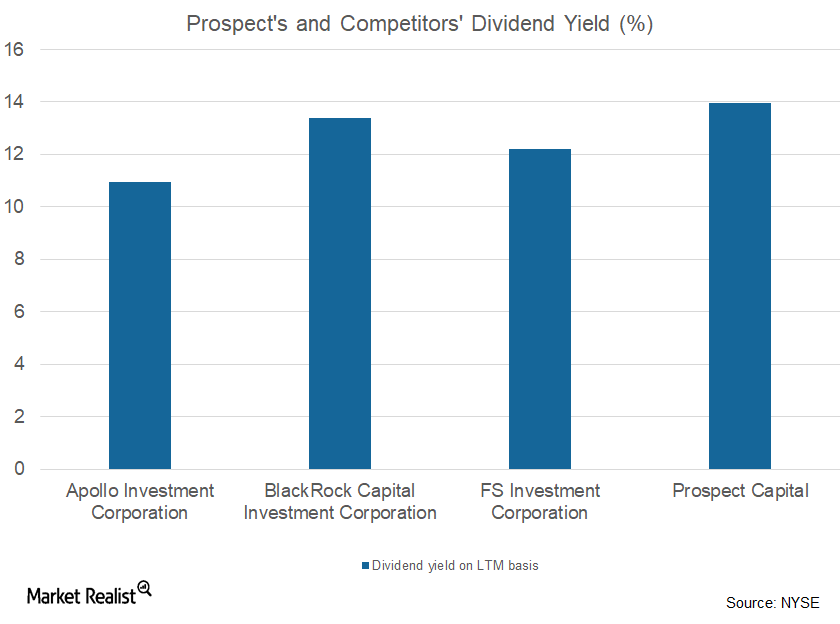 Why Prospect's Investment Income Fell
YoY fall
In fiscal 2Q18, Prospect Capital's (PSEC) total investment income was $162.4 million compared to $183.4 million a year earlier. This fall was mainly the result of lower returns generated from the company's structured credit investments.
The fall in Prospect's interest income due to lower interest-earning assets was also a major contributor to the fall in its total investment income.
Prospect Capital witnessed a fall in interest-generating assets on a YoY (year-over-year) basis in fiscal 2Q18 because it wasn't fully invested. However, its nonperforming assets were another reason for the fall.
Article continues below advertisement
Article continues below advertisement
Dividend and other income
Prospect's dividend income and its other income are also components of its total investment income, and they're not as predictable as interest income. The company witnessed a substantial fall in its total dividend income in fiscal 2Q18 compared to fiscal 2Q17. This fall mainly happened because it didn't receive dividends from Mity or NAC (Nationwide Loan Company) in fiscal 2Q18. In fiscal 2Q17, the company received dividends from both companies.
Prospect's other income rose in fiscal 2Q18 compared to fiscal 2Q17 mainly due to a rise in amendment and structuring fees.
Prospect's dividend yield is 14.0% on a trailing-12-month basis. The dividends of its peers (XLF) Apollo Investment (AINV), BlackRock Capital Investment (BKCC), and FS Investment (FSIC) are 11.0%, 13.4%, and 12.2%, respectively.