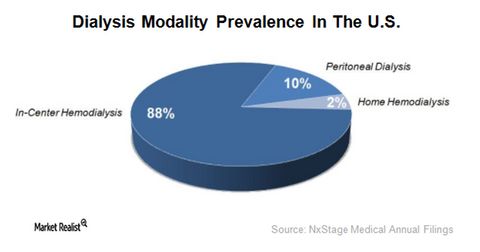 A Look at NxStage Medical's Business Strategy
By Kenneth Smith

Updated
Potential market for System One
At present, in-center hemodialysis is the predominant ESRD (end stage renal disease) therapy in the United States. According to NxStage Medical (NXTM), ~10%–15% of ESRD patients in the United States would be appropriate candidates for the company's home dialysis equipment, System One.
Article continues below advertisement
Focus on increasing adoption of home hemodialysis with System One
According to Centers for Medicare and Medicaid (or CMS), only 18% of dialysis clinics in the United States actively offer home hemodialysis for patients, and only 27% are certified to offer this therapy.
NxStage Medical participates in nephrology conferences, organizes educational programs for patients and clinicians, employs patient advocates, and conducts other educational and promotional activities to increase patient awareness and consequently the demand for home and more frequent hemodialysis.
Drive global expansion
Historically, NxStage Medical has generated most of its revenue from the US market. But the United States represents a small portion of the global market for ESRD products. Keeping this in mind, NxStage Medical has emphasized international expansion. The company's flagship product, System One, has been sold in 21 countries.
Furthermore, NxStage Medical seeks to drive international sales in countries in which it has an established footprint, as well as new regions, through third-party distributors who have presences in these regions. Additionally, the company is focusing on product development activities to introduce enhancements that it believes will increase the appeal of its products to international customers.
Focus on enhancing clinical flexibility and ease of use of products offered
NxStage Medical continues to expand on System One's indications and add new features. In August 2017, System One received clearance in the United States for solo home hemodialysis without a care partner for use during waking hours. The company has witnessed strong interest in its telehealth platform, Nx2me Connected Health, for the collection and delivery of treatment and medical information for patients using System One.
In the next part of the series, we take a look at the financial performance of NxStage Medical.