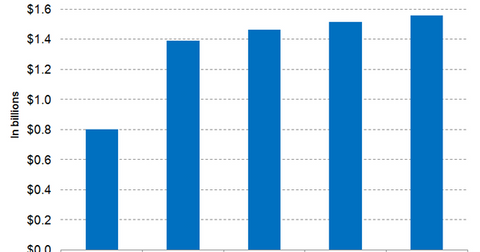 Exploring the Business Segments of Integer Holdings Corporation
By Kenneth Smith

Feb. 28 2018, Updated 9:15 p.m. ET
Business segments
Integer Holdings Corporation (ITGR) operates in two business segments: Medical and Non-Medical. The Medical segment includes advanced surgical, orthopedics, and portable medical devices. The Non-Medical segment is focused on electrochem.
Article continues below advertisement
Medical segment
Sales from the Medical segment contributed $1.4 billion to the total revenues of Integer Holdings Corporation in fiscal 2017 compared with $1.3 billion in fiscal 2016. This increase came from 9.0% growth in sales of cardio and vascular products and 6.0% growth in the sales of advanced surgical, orthopedics, and portable medical devices. This growth was attributable to market growth as well as new business wins for the company for guidewires.
The product lines included in the Medical segment include arthroscopic devices and components, laparoscopic and general surgery, biopsy, drug delivery, and orthopedic. Arthroscopic devices and components are primarily used for minimally invasive surgery in the joint space or sports medicine.
Laparoscopic and general surgery devices are mainly used for minimally invasive procedures in the abdominal space but are also used in open surgery. Integer Holdings Corporation's orthopedic products include hip and shoulder joint reconstruction implants and spinal devices.
Cardio and vascular
Integer Holdings Corporation's cardio and vascular product line offers structural heart products, peripheral vascular, neurovascular, urology and oncology devices, infusion therapy, and hemodialysis products.
Revenue forecast
For fiscal 2018, Integer Holdings Corporation is expected to generate revenues of $1.5 billion. Its peers Halyard Health (HYH), Zimmer Biomet Holdings (ZBH), and Stryker Corporation (SYK) are expected to generate revenues of $1.6 billion, $7.9 billion, and $13.5 billion, respectively, in fiscal 2018.
In the next part of the series, we'll take look at the geographic segments and debt levels of Integer Holdings Corporation.