Comparing Cara Therapeutics' Financial Performance
Financial performance In 3Q17, Cara Therapeutics (CARA) incurred $9.6 million in research and development expenses, compared with $9.1 million in 3Q16. This fall in expenses was due to a $3.1 million decrease in expenses for oral CR845's Phase 2B clinical trial, and partially offset by increased expenses for its intravenous CR845 safety study. Meanwhile, the company's general and administrative expenses rose from […]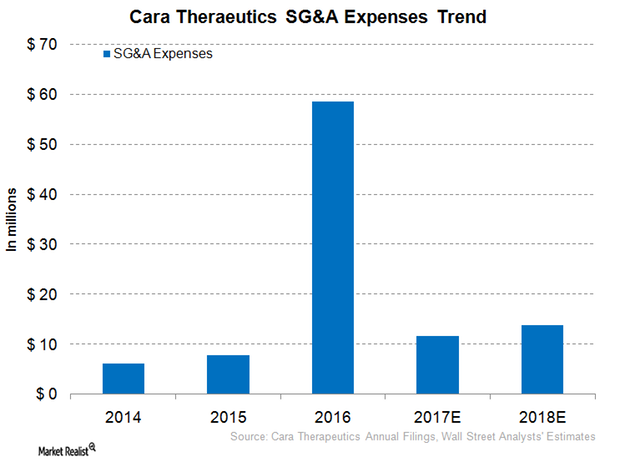 Financial performance
In 3Q17, Cara Therapeutics (CARA) incurred $9.6 million in research and development expenses, compared with $9.1 million in 3Q16. This fall in expenses was due to a $3.1 million decrease in expenses for oral CR845's Phase 2B clinical trial, and partially offset by increased expenses for its intravenous CR845 safety study. Meanwhile, the company's general and administrative expenses rose from $2.1 million in 3Q16 to $3.8 million in 3Q17, primarily due to stock-based compensation rising from $402,000 to $1.4 million.
Article continues below advertisement
Article continues below advertisement
In fiscal 2017, Cara Therapeutics is expected to incur SG&A (selling, general, and administrative) expenses of $11.6 million, while peers Aquinox Pharmaceuticals (AQXP), Flexion Therapeutics (FLXN), and Neurocrine Biosciences (NBIX) are expected to incur SG&A expenses of $14.3 million, $70.1 million, and $155 million, respectively, in fiscal 2017.
Equity offerings
At the end of 3Q17, Cara Therapeutics had raised ~$291.1 million in multiple rounds of equity offerings, including two follow-on public offerings of common stock in August 2015 and April 2017. Additionally, Cara received ~$33.5 million under a license agreement with Maruishi Pharmaceutical for developing and commercializing CR845 in Japan.
As a result of the stock offerings, the company's average outstanding common shares rose from ~27 million at the end of 3Q16 to ~32.5 million at the end of 3Q17.
Through the public offering in April 2017, Cara Therapeutics raised ~$86.2 million. At the end of 3Q17, Cara held cash and equivalents of $102.9 million.
Bottom line
Cara Therapeutics incurred a net loss of $11.5 million in 3Q16 and $12.4 million in 3Q17, with net losses per share of $0.42 and $0.38, respectively. This bottom-line improvement despite a larger net loss was due to an increase in outstanding common shares. Cara Therapeutics makes up ~0.48% of the SPDR S&P Biotech ETF (XBI).