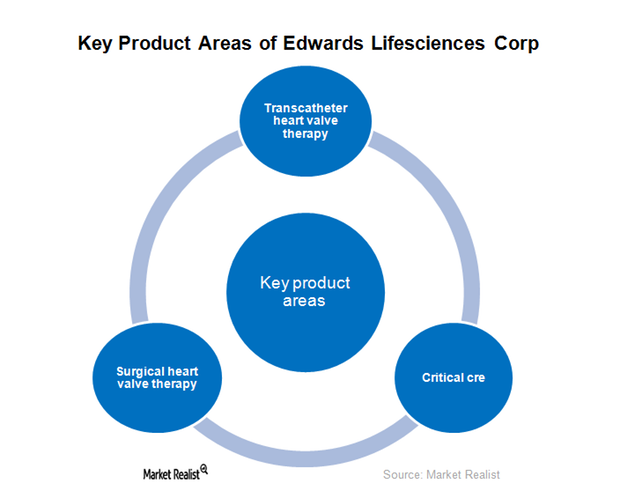 Edwards Lifesciences' Strong Product Portfolio Bodes Well
Product portfolio
Edwards Lifesciences' (EW) products can be categorized into three therapeutic areas: transcatheter heart valve, surgical heart valve, and critical care.
Article continues below advertisement
Article continues below advertisement
Transcatheter heart valve therapy
Transcatheter heart valve replacement technologies are designed for the nonsurgical replacement of heart valves. The company's products in this category include Edwards Sapien XT and Edwards Sapien 3. These products use catheter-based approaches for patients for whom traditional open-heart surgery is not optimal.
At the end of December 2017, the company's transcatheter aortic heart valves were sold in more than 65 countries. In fiscal 2017, sales of transcatheter heart valves contributed 59% to the total revenues of Edwards Lifesciences.
Surgical heart valve therapy
This product line includes valve platform and pericardial valves for aortic and mitral surgical valve replacement. Perimount valves are the most widely implanted surgical tissue heart valves in the world.
Edwards Lifesciences' newest products in this area include inspiris resilia aortic valve and Edwards intuit elite valve system, which is designed to enable faster procedures and smaller incisions. With the acquisition of Harpoon Medical in 2017, Edwards Lifesciences has added annulopasty rings and the beating heart mitral system to its product portfolio as well.
In fiscal 2017, sales of surgical tissue heart valve products contributed 21% to Edwards Lifesciences' total revenues.
Critical care
Critical care includes hemodynamic monitoring systems, which are used to measure a patient's heart function and fluid status. The company's hemodynamic portfolio includes the FloTrac system, which is minimally invasive, and the ClearSight system, which is noninvasive. Sales of hemodynamic products contributed 10% to the total revenues of Edwards Lifesciences in fiscal 2017.
In the next part of the series, we'll take a look at Edwards Lifesciences' recent acquisitions.