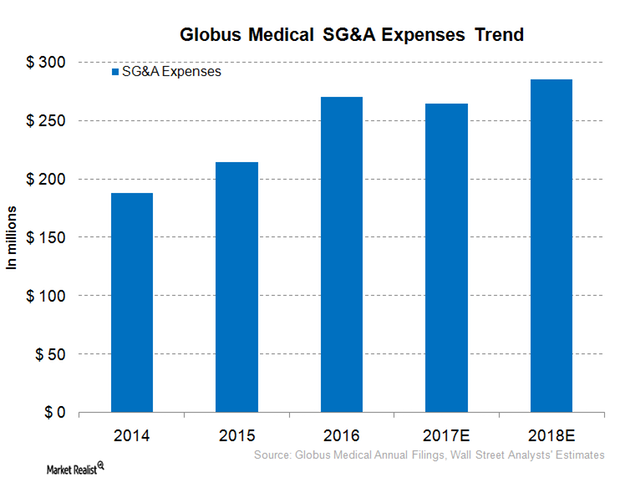 A Deep Look at Globus Medical's Financial Performance
By Kenneth Smith

Feb. 8 2018, Updated 7:35 a.m. ET
Financial performance
In 3Q17, Globus Medical (GMED) generated sales of $151.7 million compared to $135.6 million in 3Q16.
The cost of goods sold was $36.7 million in 3Q17 compared to $31.4 million in 3Q16. That's an increase of $5.3 million, which was due to higher volumes and product mix, partially offset by a favorable in-house manufacturing impact.
Article continues below advertisement
Operating expenses
The company's total operating expenses were $79.1 million in 3Q17 compared to $66.5 million in 3Q16. The increase was mainly attributable to a provision of $2.5 million for litigation and an increase of $1.1 million for amortization of intangible assets.
Research and development expenses were nearly flat at $10.8 million in 3Q17 compared to $10.2 million in 3Q16. That increase was due to an increase in employee compensation costs from an additional headcount.
Selling, general, and administrative expenses increased $9.1 million, from $54.2 million in 3Q16 to $63.3 million in 3Q17. The increase was primarily due to costs related to supporting Alphatec's international sales and an increase in the US sales force.
Consequently, the company's net income was nearly flat at $25.5 million for 3Q17 compared to $26.2 million for 3Q17.
Cash flows
Globus Medical generated $114.6 million through operating activities in the first three quarters of fiscal 2017 compared to $121.4 million in the comparable period of fiscal 2016. The increase was due to an increase in income tax receivables and accounts receivable.
Globus Medical's current ratio, a measure of how effectively a company can meet its short-term liabilities, is 7.5x. Its peers AtriCure (ATRC), Inogen (INGN), and MiMedx (MDXG) have ratios of 2.3x, 6.2x, and 3.2x, respectively.
Globus Medical makes up 0.01% of the Vanguard Total Stock Market ETF's (VTI) total portfolio holdings.