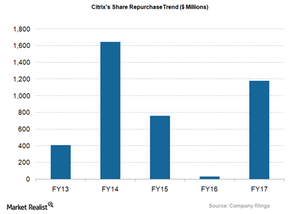 A Look at Citrix's Share Buyback Program
By Aaron Hemsworth

Feb. 15 2018, Updated 3:31 p.m. ET
History of buybacks
Citrix Systems (CTXS) ended fiscal 2017 with a share repurchase of nearly $1.2 billion. In 4Q17, the company bought back 15.5 million shares for $601.0 million.
Despite such a robust buyback program, the company had $5.4 billion in shares under its repurchase program authorization as of December 31, 2017.
In the graph above, we can see Citrix's share repurchase trend since fiscal 2013. During this period, the company bought back shares at an average of $801.0 million each year.
Article continues below advertisement
Fiscal 2018 outlook
In fiscal 2018, Citrix (CTXS) set a target to return nearly $2.0 billion to its stakeholders through share repurchases. In a bid to fund its capital return policy, Citrix issued $750.0 million in notes. 
Despite the huge capital expenditure and higher expenses on product research and development, Citrix can maintain healthy free cash flow (or FCF). Its FCF at the end of fiscal 2017 stood at $827.0 million. In the last five years, the company has maintained average free cash flow of nearly $826 million.
Among Citrix's peers, software companies Aspen Technology (AZPN), DST Systems (DST), and Progress Software (PRGS) bought back shares worth $372.0 million, $235.0 million, and $74.0 million, respectively, in 2017.