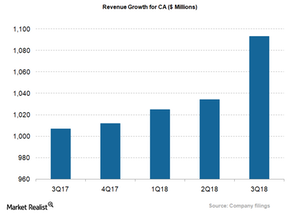 CA Technologies' Fiscal 3Q18 Revenue: Highest Growth in 6 Years
Reasons for growth
CA Technologies (CA) reported its fiscal 3Q18 financial results on January 29, 2018. Its top line witnessed the strongest growth in the last six years. Its revenue was nearly $1.1 billion, an 8.5% rise YoY (year-over-year) and a 7% rise on a constant currency (or CC) basis.
The improvement in software fees and other segmental revenues coupled with higher contracts contributed to growth. The acquisition of Automic and Veracode also helped support the company's revenue growth. A strong IT (information technology) spending environment around the globe also helped CA.
In the graph above, you can see the company's total revenue growth in the last five quarters. During that period, it grew at a CAGR (compound annual growth rate) of 2.1%.
Article continues below advertisement
Article continues below advertisement
Fiscal 2018 outlook
The company expects overall revenue in fiscal 2018 to increase 5% YoY and 4% on a CC basis. Revenue is expected to be $4.2 billion–$4.3 billion. Its international market achieved 13% YoY revenue growth, driven by its growing foreign presence. North America, which contributes more than 60% of its revenue, grew 6% YoY.
In fiscal 3Q18, CA landed 21 license deals worth $577 million with an incremental contract value of more than $10 million each. The company's three segments, Mainframe Solutions, Enterprise Solutions, and Services, rose 1%, 19%, and 11%, respectively, on an annualized basis.
In the reported quarter, CA launched some important products, including the CA Continuous Delivery Director, the CA BlazeMeter API (application programming interfaces) Test, and the CA Trusted Access Manager for Z.
In January 2018, Microsoft (MSFT) and International Business Machines (IBM) saw their revenues grow 11% and 1%, respectively, YoY on a CC basis.