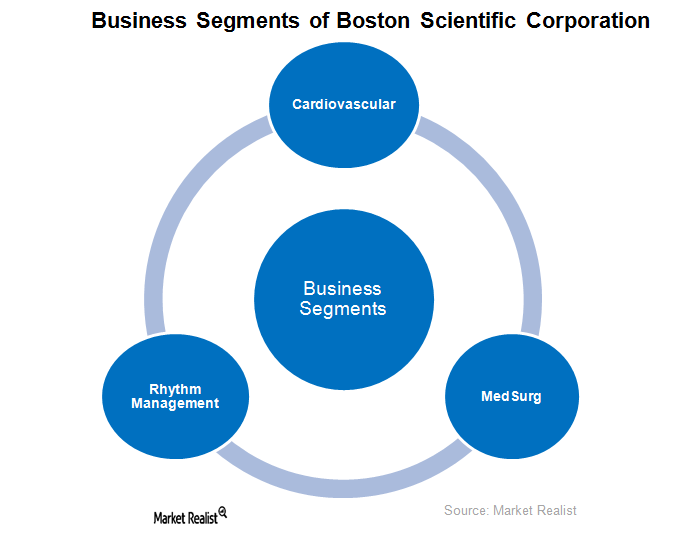 Analyzing Boston Scientific's Business Segments
Business strategy
Boston Scientific (BSX) has a multi-pronged business strategy. In order to drive profitable growth, the company focuses on strengthening category leadership, expanding into high growth adjacencies, driving global expansion, and developing key capabilities.
Article continues below advertisement
Article continues below advertisement
Business segments
Boston Scientific operates in three business segments that cater to seven different product categories. The three segments include Cardiovascular, CRM (Cardiac Rhythm Management), and MedSurg.
Cardiovascular segment
Boston Scientific's Cardiovascular segment includes the interventional cardiology, peripheral interventions, and rhythm management and electrophysiology categories. The categories contributed 27%, 12%, and 3%, respectively, to the company's total revenues.
Interventional cardiology develops and manufactures products to diagnose and treat coronary artery disease and other cardiovascular disorders. The products in this category include drug-eluting coronary stent systems, complex PCI (percutaneous coronary interventions) therapies, PCI guidance, and structural heart therapies. Structural heart therapy is synergistic with Boston Scientific's rhythm management business.
Boston Scientific's peripheral interventions category develops and manufactures products that help diagnose and treat arterial diseases. The category also develops products to treat and ease different forms of cancer.
CRM segment
Boston Scientific's CRM segment develops and manufactures different implantable devices that monitor the heart and deliver electricity to treat cardiac abnormalities. Through the CRM segment, the company offers implantable cardiac defibrillators, pacemakers, and the Lattitude remote patient management system which enables more frequent monitoring and better-guided treatment decisions.
Boston Scientific's electrophysiology category develops and manufactures less invasive products that are used to diagnose and treat heart rate and rhythm disorders including catheters, 3-D mapping, ablation catheter line, generators, and pumps for use in electrophysiology labs.
Next, we'll discuss Boston Scientific's MedSurg business segment.