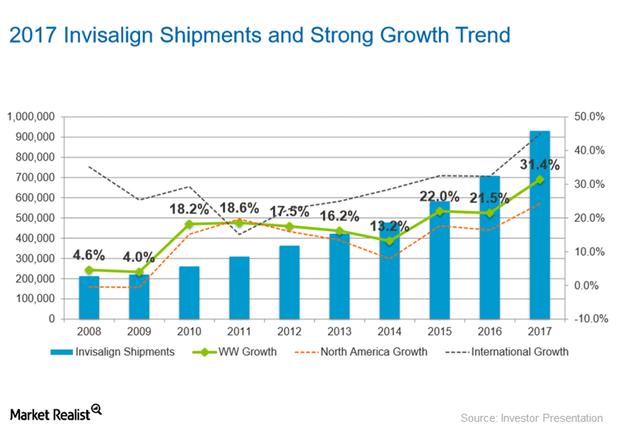 Align Technology's Invisalign: Average Selling Price and Volumes
Invisalign volume growth in 4Q17
For 4Q17, increases in Align Technology's (ALGN) Invisalign volumes and ASP (average selling price) were the major factors that drove the company's sales growth. Invisalign's volume growth in fiscal 4Q17 was ~34.2% on a YoY (year-over-year) basis. The growth in Invisalign volumes was driven by strong international growth due to the company's successful execution of its strategy to focus on expanding its customer base and increasing utilization. In 4Q17 and for the third consecutive quarter, the company reported more than 4,000 new Invisalign customers.
The total Invisalign shipment cases in the quarter were 255,000, a rise of ~8% on a QoQ (quarter-over-quarter) basis. Shipment growth was mainly driven by customers in the North America and EMEA (Europe, the Middle East, and Africa) regions.
Article continues below advertisement
In North America, case volumes registered higher sequential growth for GP (general practitioner) dentists, whereas YoY volume growth was higher for orthodontists. The YoY growth in orthodontists' Invisalign case volumes was ~30.7%, while QoQ volumes rose ~2.3%. For GP dentists, the YoY case volume growth was ~16.1%, and sequential growth was 9.2%. Internationally, Invisalign case volume growth saw a YoY increase of 52.3% and a sequential rise of 12.7%.
For 2017, Align Technology registered total Invisalign shipments of 931,000, an increase of ~31.4%. International doctors registered volume growth of ~44.9%, and North American doctors registered volume growth of ~24.3%.
Although Align's Invisalign has penetrated most of the clear aligners market, other dental technology providers, including Henry Schein (HSIC), Dentsply Sirona (XRAY), and Zimmer Biomet Holdings (ZBH), could expand into this space and provide competition to Align in the future.
Invisalign's ASP trend
In 4Q17, Align Technology reported an increase of $75 in Invisalign's ASP (average selling price). But on a sequential basis, the product's ASP fell ~$5. Invisalign's ASP in fiscal 4Q17 was $1,305. The sequential decline in ASP was mainly due to higher deferrals and higher discounts for the product.
However, the international price increase offset some of the negative impact of these factors in fiscal 4Q17. For 2017, the negative impact of these factors was offset by product mix, favorable foreign exchange, and a shift in sales strategy in certain regions, from distribution to direct sales.