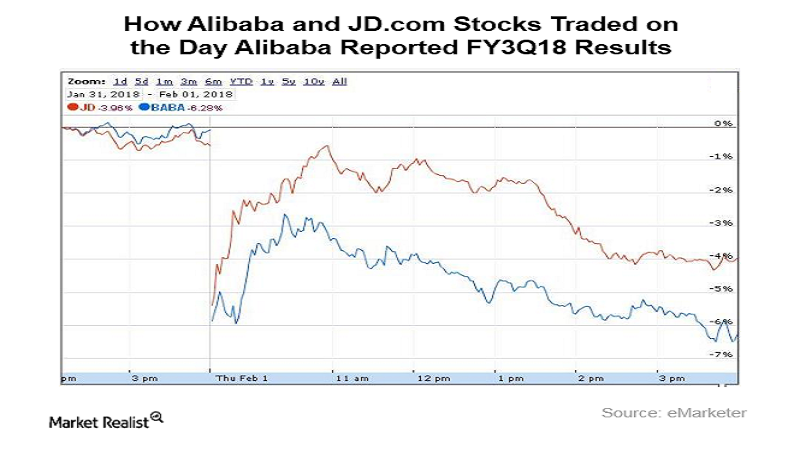 Why Alibaba Stock Fell Following Its 3Q18 Earnings Release
BABA stock fell more than 6.0%
Alibaba's (BABA) stock fell about 6.2% on February 1—the day the company released its fiscal 3Q18 (December quarter) earnings. Tencent (TCEHY), JD.com (JD), and Baidu (BIDU), the three other large Chinese internet companies, followed Alibaba's trajectory, with their stock falling between 2.1% and more than 3.4%.
Amazon.com (AMZN) stock fell about 4.2% on February 1, but eBay bucked the trend, gaining more than 13.8% on the day Alibaba reported its fiscal 3Q18 results.
Article continues below advertisement
Article continues below advertisement
Alibaba missed EPS expectation
The decline in Alibaba's stock following its fiscal 3Q17 results can be linked to the company missing profit expectation for the quarter. Alibaba's adjusted EPS (earnings per share) of $1.63 fell short of the $1.67 that Wall Street analysts were expecting.
The company continued its growth investment in fiscal 3Q18, and this pressured profit margins, with its operating profit margin sliding to 31% from 39% one year ago.
According to Alibaba's management, the lower profit margin is no cause for concern as long as the company keeps growing. Alibaba's revenues grew 56% YoY (year-over-year) in fiscal 3Q18. That followed a growth of 61% YoY in the prior quarter and a growth of 54% in fiscal 3Q17.
2018 growth outlook upgraded
After reporting its 3Q18 results, Alibaba went on to upgrade its growth outlook for fiscal 2018 (ended March 2018). The company expects its fiscal 2018 revenues to grow in the range of 55%–56%. Its previous forecast showed expected growth in the range of 49%–53%. Alibaba's fiscal 2017 revenues grew 56%.
Notably, with Alibaba upgrading its growth forecast for fiscal 2018 and the management downplaying the profit margin dip, some investors viewed the dip in Alibaba stock as presenting an opportunity to enter the stock at a discount.
Continue to the next part for a closer look at Alibaba's spending.