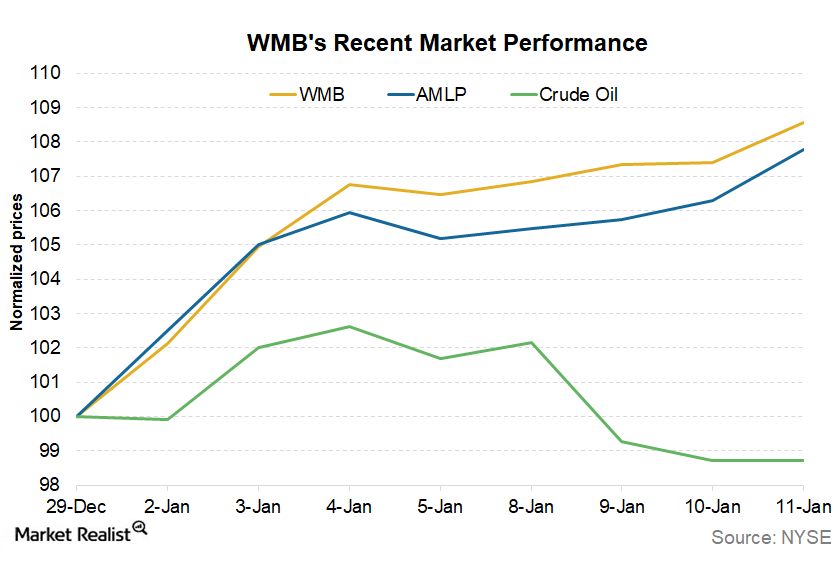 WMB Has Risen ~9% in 2018 So Far: Can the Gains Continue?
Williams Companies' recent performance
Williams Companies (WMB) has had a massive start to the year. It's risen nearly 9% in seven trading sessions in 2018. Overall, the C corporation GP (general partner) has risen ~14% since the start of December 2017. At the same time, the Alerian MLP ETF (AMLP), which comprises 25 energy MLPs, has risen 12.2%.
The rally in the midstream sector could be attributed to a rise in natural gas demand, strong crude oil prices, a rise in US drilling activity, and US tax reforms. According to a recent press release, Williams Partners' Transco pipeline has delivered a record amount of natural gas to US markets. According to the related release, "Transco delivered a record-breaking 15.58 million dekatherms (MMdt) on Jan. 5, 2018. The new peak-day mark surpasses the previous high that was set on Jan. 1, 2018."
Article continues below advertisement
Williams Companies' historical performance
These recent gains have driven Williams Companies' one-year returns. WMB has risen 15.0% in the past year. Moreover, Williams Companies is outperforming AMLP, which has fallen 8.7% in the past year.
WMB is outperforming AMLP by ~2,370 bps (basis points). This outperformance can likely be attributed to Williams Companies' lower commodity price exposure and improved leverage position. WPZ has risen 6.8% in one year. WMB's peers Enterprise Products Partners (EPD) and ONEOK (OKE) have risen 4.7% and 1.9%, respectively.
Series overview
In this series, we'll try to find out whether WMB can continue its gains after its massive rally. We'll look into WMB's price forecast and technical indicators. Following this, we'll look into WMB's valuation and analyst recommendations.