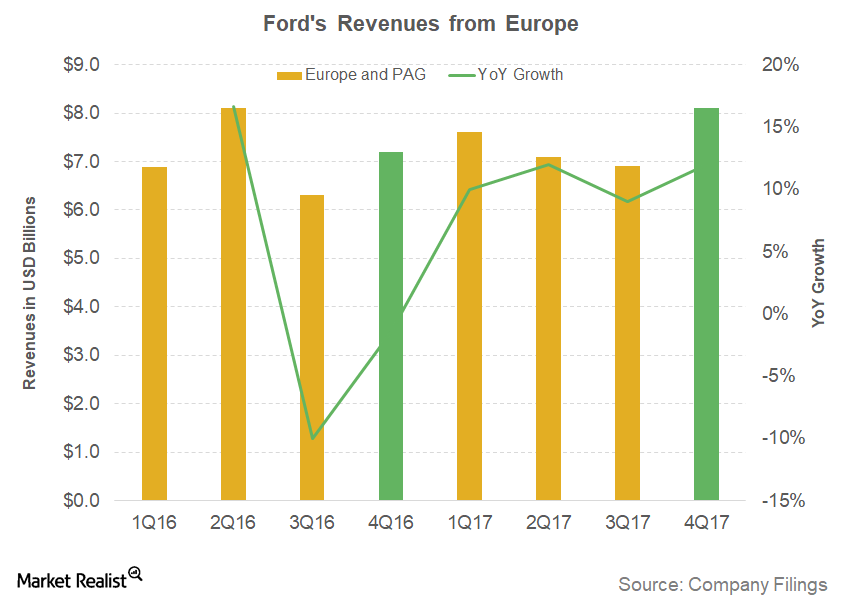 Why Couldn't Ford Perform Well in Europe in 4Q17?
Ford's revenues in 4Q17
In the previous part of this series, we looked at Ford Motor Company's (F) revenues and profitability from North America. The company's revenues from its largest market rose, but it couldn't manage to post stronger profitability from the region in the fourth quarter last year. Nevertheless, higher demand for trucks and utility vehicles had a positive impact on the company's profits in 4Q.
Article continues below advertisement
Europe revenues rose
In terms of revenues, Europe is the second largest market for Ford Motor after North America. In 4Q17, the company's revenues from Europe witnessed a solid rise of ~12% to $8.1 billion as compared to $7.2 billion in 4Q16. In 4Q17, Ford sold about 416,000 vehicle units in Europe with about a 7% YoY (year-over-year) increase, which boosted the company's revenues from the region.
This was the second consecutive quarter when Ford reported a YoY increase in its Europe market revenues. Previously, in 3Q17, Ford's revenues from Europe also went up by 9% YoY to $6.9 billion. With this, the company's revenues have improved in the region on a quarter-over-quarter basis. However, all was not so positive in Europe. Let's look at why.
Pre-tax loss from Europe continued
Ford reported a pre-tax profit of about $56 million with a dismal operating margin of 0.7% in 4Q17 as compared to its operating margin of 2.3% in 4Q16. In the previous quarter, the company reported the pre-tax loss and negative operating margin from the region since.
Ford suggested the Brexit effect as one of the reasons for this pessimism in Europe. Due to Brexit, it continued to face foreign exchange headwinds in Europe. Also, Ford cited higher raw material costs and vehicle-recall-related expenses as other key factors that hurt its profitability in the European market last quarter.
In 2017, Ford's direct peer, General Motors (GM), announced its exit from Europe after facing challenges caused by economic instability and Brexit. Other large auto companies (IYK) including Daimler, Fiat Chrysler (FCAU), and Volkswagen (VLKAY) continue to be profitable in Europe.
Read on to the next part to learn about Ford's 4Q17 profitability and margins for its overall automotive segment.