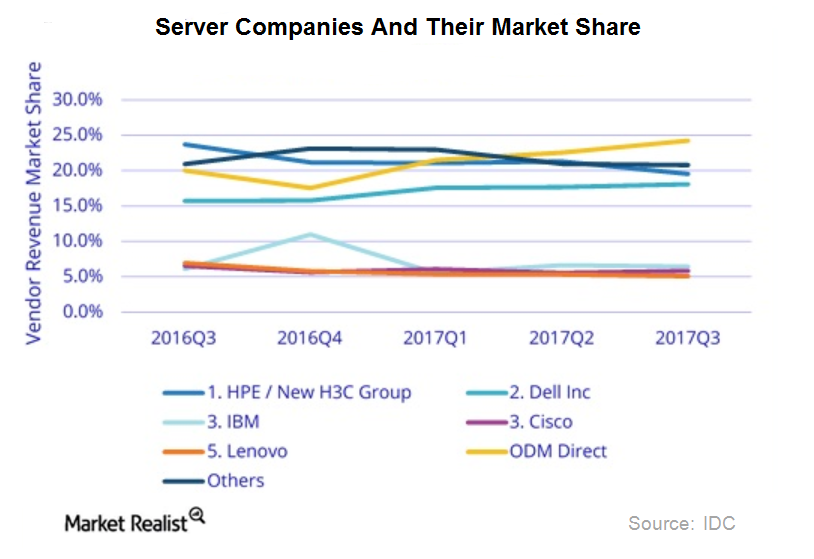 What's Amazon's Role in ODM Growth in the Global Server Market?
Amazon emerged as biggest server buyer in 3Q17
Earlier in the series, we discussed that the server market space reported growth for the second straight quarter in 3Q17. Among hyperscale cloud providers that drove growth in the server space, the majority of the share was taken by ODMs, which are also known as white box manufacturers.
ODMs are unbranded players that sell directly to hyperscale datacenters. Apart from being cheaper than branded systems, they also provide opportunities for companies to get their systems customized according to their computing needs.
Article continues below advertisement
These trends explain why ODMs are a preferred choice of hyperscale players like Amazon, Google (GOOG), Microsoft (MSFT), and Facebook (FB), as they build low-cost servers based on industry-standard components. However, the flip side is unlike the large players, or OEMs, ODM servers don't provide the same extent of support and services. This arrangement does not pose a problem for companies like Amazon and Facebook, as they possess the required expertise and resources to support their own infrastructures. In 3Q17, Amazon (AMZN) was the biggest buyer among hyperscale cloud providers.
ODMs are rapidly increasing their revenues as well as market share
ODMs continued to register significant year-over-year growth. With a 24.3% market share in terms of revenues, ODM revenues rose 45.3% to ~$4.2 billion in 3Q17, according to IDC.
With a 20% market share and revenue of $2.8 billion in 3Q16, ODMs have managed to grow their market share and revenue to 24.3% and $4.2 billion, respectively. The preference of leading cloud players like Amazon, Microsoft, Google, and Facebook to use white box systems for their data center requirements is helping ODMs expand their base.