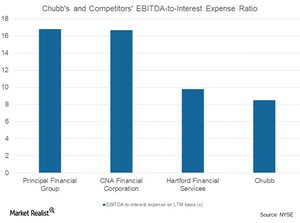 What to Expect from Chubb in 4Q17
Expected EPS
Chubb Limited (CB) plans to release its 4Q17 earnings report on January 30. The average estimate from Wall Street analysts for earnings per share or EPS in 4Q17 is $2.33. In 3Q17, the company posted a loss per share. The high estimate and a low estimate for 4Q17 stand at $2.63 and $2.00, respectively.
Since Chubb witnessed significant losses because of hurricanes, the stock might have disappointed investors. But these natural disasters are part and parcel of the industry. Chubb could be considered a long-term stock because of its strong capital base.
Article continues below advertisement
Expected revenues
Wall Street analysts have given an average estimate of $6.62 billion for Chubb's revenues in 4Q17. However, the high and low estimates for 4Q17 stand at $6.94 billion and $6.36 billion, respectively. On December 26, the company announced that in 4Q17, it would experience a non-recurring benefit of more than $250 million on the back of new tax laws.
Chubb's earnings before interest, tax, depreciation, and amortization (EBITDA) to interest expense ratio over the last 12 months stood at 8.52x. Peers (XLF) Principal Financial Group (PFG), CNA Financial Corporation (CNA), and Hartford Financial Services (HIG) reported 16.79x, 16.68x, and 9.80x, respectively.