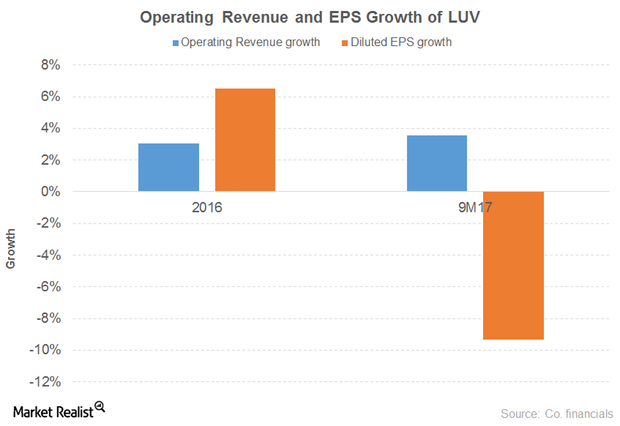 How Is Southwest Airlines Doing?
By Amanda Lawrence

Jan. 26 2018, Updated 10:32 a.m. ET
What drove revenue growth?
Southwest Airlines' (LUV) operating revenue grew 3% and 4% in 2016 and 9M17, respectively. The holiday season was included in 2016. Low fares, customer service, and December business travel drove the 2016 numbers. The numbers were also driven by service to Cuba and new international flights from Los Angeles International Airport in 4Q16.
The 2017 numbers reflected strong demand, partially offset by flight cancellations due to the hurricanes. Both periods witnessed lower average fares, especially in 2016, and increased trips. PRASM (passenger revenue per available seat mile) and TRASM (total revenue per available seat mile) decreased during those periods. However, the rate of decline decreased in 9M17. Fuel costs per gallon decreased in 2016 before recovering in 2017. The number of aircraft decreased in 9M17 after an increase in 2016.
Article continues below advertisement
Why did diluted EPS fall?
LUV's cost of revenue rose 2% and 5% in 2016 and 9M17, respectively. Gross profit grew 4% and 3% in 2016 and 9M17, respectively. Operating expenses increased 9% and 6% in 2016 and 9M17, respectively. As a result, operating income fell 9% and 6% in 2016 and 9M17, respectively. Other expenses decreased in 2016 before rising in 9M17. Diluted EPS (earnings per share) grew 7% in 2016 before falling 9% in 9M17. Share buybacks enhanced the EPS numbers.
Dividend yield and price performance
LUV has an impressive free cash flow position. Dividend yield fell slightly in 2017 due to lower dividend growth and higher price gains.
Its dividend yield of 0.8% and PE (price-to-earnings) ratio of 18.3x compare to a sector average dividend yield of 1% and a PE ratio of 14.4x. LUV rose 16% in 2016 and 31% in 2017. It fell 1% on a YTD (year-to-date) basis.
Article continues below advertisement
Going forward
LUV has added new destinations, including Mexico; nonstop services; new international flights, some from South Florida to the Turks and Caicos Islands, Costa Rica, and the Dominican Republic; additional flights for college football fans; low domestic fares for special destinations; new Boeing 737 MAX 8 service; new flights throughout California; and the expansion of international options in major cities, with a focus on Havana.