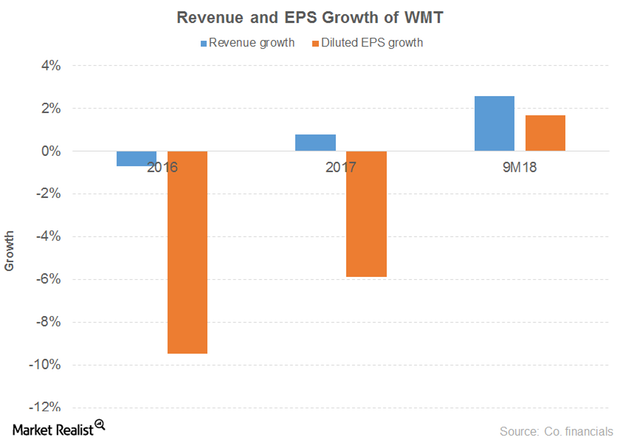 How Walmart Looks Going Forward
What drove Walmart's revenue?
Walmart's (WMT) revenue fell 1% in 2016 before increasing 1% in 2017. US operations drove its revenue, offset by non-US operations. Walmart U.S. drove sales in both years. Sam's Club picked up in 2017 after falling in 2016. Both were offset by Walmart International. US comparable store sales with fuel rose 0.5% in 2016 and 1.2% in 2017, driven by Walmart U.S. Comparable store sales with fuel for Sam's Club rose in 2017 after a decline in 2016.
Article continues below advertisement
Going forward
Acquisitions of online retailers, the introduction of mobile money transfer, price cuts for domestic money transfer, the launch of online grocery pickup locations, and expanded product assortment in stores and online with shipping facilities and special offers during holiday seasons have the potential to continue to drive Walmart's performance.
ETFs
The iShares Edge MSCI Multifactor Consumer Staples (CNSF) has a PE ratio of 19.7x and a dividend yield of 2.1%. The Fidelity MSCI Consumer Staples ETF (FSTA) has a PE ratio of 21.7x and a dividend yield of 2.4%.