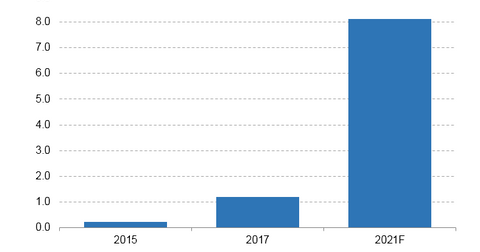 Where Does VeloCloud Fit in VMware's Strategy?
By Ruchi Gupta

Updated
VMware closed 2017 with three acquisitions
Just before Christmas, VMware (VMW) announced that it had completed the acquisition of VeloCloud, a specialist in the software-defined wide-area network (SD-WAN) space. The acquisition of VeloCloud brought the number of companies that VMware had purchased in 2017 to three, according to Crunchbase data.
While VMware didn't disclose the financial terms of its acquisition of VeloCloud, it clearly explained where it expects the asset to fit into its strategy. Although VMware is best known as a provider of platform virtualization, for a few years now, it's been working to diversify into network management. This goal saw it spend nearly $1.3 billion to acquire Nicira, a vendor of network virtualization technology, in 2012. The acquisition of VeloCloud fits with VMware's push into the network management market.
Article continues below advertisement
SD-WAN market growing at nearly 70% annually
With VeloCloud, VMware is hoping to enhance its campaigns for market share in the fast-growing SD-WAN market. Research company IDC forecasts that the SD-WAN market will grow at an average annual rate of 69% to reach $8.1 billion by 2021. The market was valued at $225 million in 2015, and it's estimated to have expanded to ~$1.2 billion in 2017.
VeloCloud bringing technology and important customers
VeloCloud, whose enterprise customers include AT&T (T), Sprint (S), and T-Mobile (TMUS) parent Deutsche Telekom, boasts advanced SD-WAN technologies that VMware can leverage to bolster its competition against Cisco Systems (CSCO) in the software-based networks market. VMware's acquisition of VeloCloud came only a few months after Cisco acquired SD-WAN vendor Viptela for more than $600 million as competition for control of the modern networks market heated up.