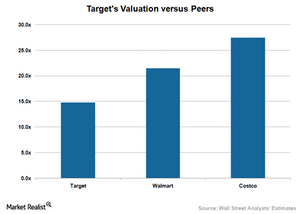 Target's Valuation Compared to Its Peers
Valuation summary
Target (TGT) stock was trading at a forward PE (price-to-earnings) ratio of 14.8x on January 9, 2018, which seems compelling when compared to the peer group average of 24.5x. However, its low growth expectation has weighed on its attractive valuation multiple until now.
However, the improvement in sales and earnings is expected to return the company to growth in fiscal 2018. It would be driven by stabilization in its core business and anticipated benefits from a lower tax rate.
Article continues below advertisement
Target stock is trading at a discount compared to the Consumer Staples Select Sector SPDR ETF's (XLP) forward PE (price-to-earnings) multiple of 21.2x and the S&P 500 Index's (SPX) forward PE multiple of 19.5x. In comparison, the company's peers are trading at a higher valuation multiple. Walmart (WMT) and Costco (COST) stock are trading at forward PE multiples of 21.5x and 27.5x, respectively.
Several analysts have raised their target prices for TGT stock after the holiday sales results and the company's upbeat outlook. Deutsche Bank increased its price target to $70 from $57. Morgan Stanley raised it to $64 from $50. Telsey Advisory Group raised it to $75 from $65.
Growth expectations
Target has a lower growth rate compared to its peers. Costco and Walmart have reported strong earnings growth in the past several quarters despite continued investments in growth and increased competition from Amazon (AMZN). Analysts expect both these companies to continue to generate higher earnings growth on the back of strong sales.
Until now, Target lagged behind its peers on profitability. But now it could register strong growth in its bottom line in fiscal 2018. The company's management expects EPS (earnings per share) to be $5.15–$5.45, which reflects a strong improvement from the prior year due to anticipated benefits from lower taxes and growth in sales.
The company's growth measures include price investments, same-day delivery, exclusive product launches, the opening of small-format stores, the remodeling of traditional ones, and drive-up services. They're expected to drive sales and earnings higher.
Analysts expect Walmart and Costco to impress investors with their financials in the coming quarters. Costco is projected to register strong sales and EPS growth and outperform its peers.