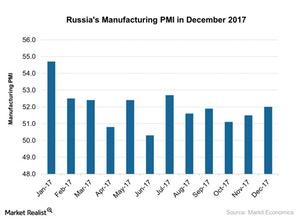 Russia's Manufacturing PMI Improved in December 2017
Russia's manufacturing PMI in December
According to a report by Markit Economics, the final Russia manufacturing PMI (purchasing managers' index) improved in December as compared to November 2017. It was at 52.0 in December as compared to 51.5 in November 2017. The December figure met the preliminary market estimate of 52.0.
The stronger performance in Russia's manufacturing PMI in December was mainly due to the following factors:
Production volume and output improved the most since August 2017.
Both new business orders and factory output strengthened at a higher rate during that month.
Job growth in the manufacturing sector also improved at a higher rate.
Export orders contracted for the first time since August 2017.
The stronger rise in the manufacturing PMI is a positive sign for the economy. On the other hand, the improvement in crude oil prices is supporting investor confidence in the economy. As Russia's economy strongly depends on crude oil (USO) (UCO) exports and various energy products exports, the recent stabilization in crude oil is a positive factor for the economy.
Article continues below advertisement
Performance of ETFs in December 2017