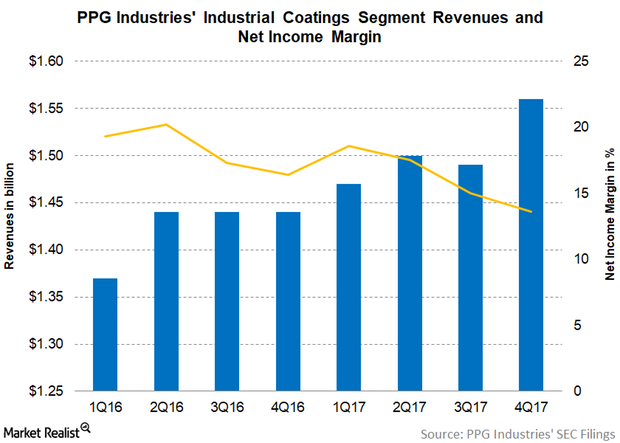 PPG's Industrial Coatings Segment's Margins Continue to Contract
Industrial Coatings in 4Q17
PPG Industries' (PPG) Industrial Coatings segment is its second reporting segment. The segment represented 42.3% of the company's total revenue in 4Q17 compared to 42.0% in 4Q16.
The Industrial Coatings segment reported revenue of $1.6 billion in 4Q17 compared to $1.4 billion in 4Q16—a rise of 8.3% on a YoY (year-over-year) basis.
The segment's revenue rose primarily due to favorable foreign currency, higher volumes, and acquisition-related growth. However, its lower pricing had an adverse impact on its revenue and income.
Article continues below advertisement
The segment's rise in volumes was primarily supported by growth in its automotive original equipment manufacturer (or OEM) coatings business, which grew on par with global automotive production rates. However, the business's growth was lower in China. The packaging coatings business saw a major growth push as a result of its continued adoption of new technology.
Net income and margin
In 4Q17, the Industrial Coatings segment reported net income of $212 million, a fall of 10.2% YoY. The segment's net income margin witnessed a sharp contraction of 280 basis points on a YoY basis from 16.4% in 4Q16 to 13.6% in 4Q17. The contraction was mainly the result of a rise in the segment's raw materials costs, which PPG was unable to pass on to its clients. The lower margin was assisted by falling income and the segment's increased revenue.
Article continues below advertisement
Outlook
Global automotive OEM sales will likely continue to drive the segment's revenue growth, though China could see a dip because its subsidy for small engines has expired. Acquisition growth is expected to be ~$30 million, and the favorable foreign currency situation is also expected to continue. Raw materials costs are expected to continue their upward trend, and the segment's margin could stay under pressure if PPG doesn't pass these costs on to its clients.
Investors looking for indirect exposure to PPG Industries can invest in the Vanguard Materials ETF (VAW). VAW has invested 3.1% of its portfolio in PPG Industries. The fund's other holdings include DowDuPont (DWDP), Monsanto (MON), and LyondellBasell (LYB) with weights of 18.0%, 5.3%, and 4.0%, respectively, as of January 18, 2018.