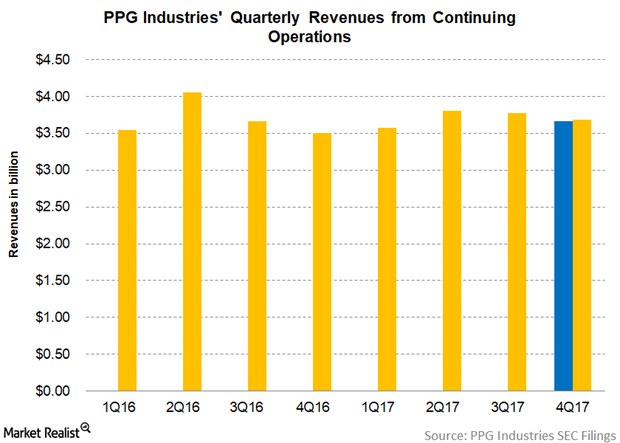 PPG Industries Stock Soars as 4Q17 Revenue Beats Estimates
PPG's 4Q17 revenue beats estimates
PPG Industries (PPG) announced its 4Q17 earnings before the market opened on January 18, 2018. The company reported revenue of $3.68 billion, a rise of 7.9% on a YoY (year-over-year) basis. The above-mentioned growth was reported on a continuing operation basis. In 4Q16, PPG Industries reported revenue of $3.4 billion on a continuing operation basis.
PPG's reported revenue beat analysts' estimate of $3.66 billion.
Article continues below advertisement
PPG's revenue growth was primarily driven by the combination of its improved selling price, higher volumes, favorable currency, and acquisitions. PPG's selling price improved for the third consecutive quarter as it passed its increased raw materials costs on to its customers. Its volumes increased by 3% driven by both its reporting segment and all its geographical locations.
The biggest boost came from favorable foreign currency, which drove the company's revenue by 3%, or $115 million. The continued weakness in the US dollar also helped PPG's revenue to grow. Finally, revenue from the company's acquisition of Crown Group helped its revenue to grow, while its divestiture of its fiberglass business had an adverse impact YoY.
Stock price soars
Wall Street reacted positively to PPG Industries' 4Q17 results. The stock rose ~3.4% and closed at $118.41. On the same day, Sherwin-Williams (SHW) and Axalta (AXTA) rose 0.90% and 0.20%, respectively, while RPM International (RPM) fell 0.30%.
Michael McGarry, PPG Industries' chair and CEO, said, "In the fourth quarter, we delivered solid and balanced sales growth in each major region, and both reporting segments achieved at least 2 percent sales volume growth. Additionally, our aggregate selling prices improved for the third consecutive quarter as we made continued progress on our margin recovery efforts, despite higher than anticipated raw material inflation in the quarter driven by ongoing supply-related issues, including production curtailments from additional environmental enforcement in China."
Investors can hold PPG Industries indirectly by investing in the Vanguard Materials ETF (VAW). VAW has invested 3.0% of its portfolio in PPG Industries as of January 18.
In the next article, we'll look into PPG's earnings.