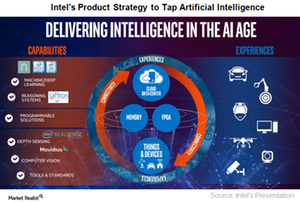 Nvidia and Intel: The Benefits of Artificial Intelligence
Impact on semiconductor companies
In the previous part of this series, we saw that AI (artificial intelligence) could bring strong opportunities for semiconductor companies, especially the ones that supply data processors, memory, wireless communications, and sensors.
UBS analyst Bill Lu expects Nvidia (NVDA), Broadcom (AVGO), and Intel (INTC) to be the key beneficiaries of the AI revolution.
Article continues below advertisement
Nvidia 
Nvidia's GPUs (graphics processing units) are preferred by many data center and cloud companies for their AI tasks. That saw its data revenue grow in the triple digits in 2017. The company is exploring new applications for AI where it can leverage its GPU technology. Some of these applications include city management, construction and machinery, and healthcare. By late 2018 or early 2019, the company could start reporting revenue from these verticals.
Broadcom
Broadcom is the largest communications semiconductor company in the world with a vast portfolio of 18 communication ICs (integrated circuits) that support data center networking, set-top boxes, broadband access, smartphones, factory automation, game consoles, laptops, and electronic displays. The company also supplies LEDs (light emitting diodes), displays, and network Bluetooth adaptors.
Broadcom is looking to acquire Qualcomm (QCOM) in order to tap the 5G (fifth-generation) revolution that could connect the future data-driven economy.
Intel
Intel is looking to become an end-to-end solution AI provider powering everything from IoT (Internet of Things) devices to PCs (personal computers) to servers with their processors, memory, FPGAs (field programmable gate arrays), and communication chips.
The company has hired Advanced Micro Devices' (AMD) GPU head Raja Koduri to enter the discrete GPU space. It also launched its 3D (three-dimensional) XPoint-based Optane memory products for data analytics. It's competing with Qualcomm to launch 5G products and is working with automakers to develop an AI platform for autonomous vehicles. All these efforts increased Intel investors' confidence and pushed the stock to a 16-year high.
The AI revolution may not only benefit chip companies but also foundries and semiconductor equipment manufacturers. We'll look at that possibility in the next part.