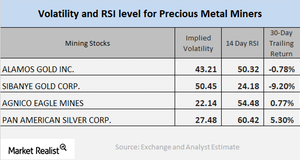 What Mining Stocks' Indicators at the End of December Tell Us
Mining stocks recover
Article continues below advertisement
Volatility analysis
Agnico, Randgold, Yamana, and Barrick have call implied volatilities of 24.3%, 21.1%, 38.8%, and 22.8%, respectively. The call implied volatility is used to measure the fluctuations in the price of an asset given the variations in its call option.
Often, the volatility in mining stocks is higher than that in precious metals. However, silver and palladium are known to be more volatile. The four miners that we are currently discussing have 30-day trailing gains of 3%, 0.54%, 17.6%, and 3.3%, respectively.
RSI readings
If a stock's RSI level is above 70, it indicates that it could be in overbought territory, and the price could decline. A stock's RSI indicator that is lower than 30 indicates that it could be oversold, and its price could rise. Agnico, Randgold, Yamana, and Barrick have RSI scores of 74.5, 71.3, 85.6, and 74.4, respectively.
The revival in precious metals has been behind the surge in mining stocks and mining funds like the Physical Swiss Gold Shares (SGOL) and the Physical Silver Shares (SIVR). They have increased 1.7% and 2.5%, respectively, on a five-day trailing basis.