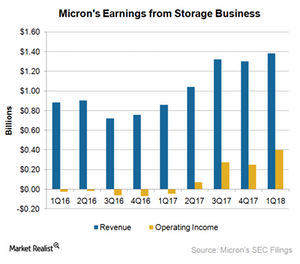 Micron Technology's CEO Focuses on the Storage Business
Micron Technology's Storage business
Micron Technology's (MU) fiscal 1Q18 revenues were driven by strong demand for server, mobile, and SSD (solid-state drive) memory solutions. Micron Technology's SBU (Storage Business Unit) sells NAND (negative AND) Flash SSDs to clients and enterprises.
Micron Technology's chief executive officer, Sanjay Mehrotra, is focused on improving the company's SSD portfolio. He did the same with his former company, SanDisk, which was acquired by Western Digital (WDC) in 2016. Let's look at the server and SSD markets and understand their key growth factors.
Article continues below advertisement
SBU revenues
Micron Technology's (MU) SBU revenues rose 7.0% sequentially and increased to $1.4 billion in fiscal 1Q18. SSD sales rose in double digits across the Consumer, Client and Enterprise, and Cloud segments.
MU's SSD revenues to cloud and enterprise customers rose 50.0% sequentially due to a weak fiscal 4Q17 when SBU sales declined. This decrease occurred when the company identified a small issue in select TLC (triple-level cell) 3D NAND products and halted shipments of those products. The issue was resolved in fiscal 1Q18, the shipments resumed, and sequential revenues increased.
On a YoY (year-over-year) basis, SBU sales rose 61.0% in fiscal 1Q18 as its SSD market share increased. Ernie Maddock, Micron Technology's CFO, spoke during J.P. Morgan's 16th Annual Technology Investor Forum. Maddock noted that the company's aggregate SSD market share increased from the mid-single digits to the upper-single digits, and it looks to increase its share to double digits.
Micron Technology's SBU revenues are increasing more quickly than Intel's (INTC) data center revenues, which are increasing in the high-single digits YoY. This trend resulted from the increased memory content per server.
Article continues below advertisement
SBU profit
SBU's non-GAAP[1. generally accepted accounting principles] operating profits rose more than tenfold from a loss of $45.0 million in fiscal 1Q17 to $400.0 million in fiscal 1Q18. This increase accounted for ~13.0% of the company's overall operating income. Its operating margin increased from -5.0% to 29.0% for its highest margin in more than two years.
SBU's operating margins rose faster than its revenues due to a richer product mix and increasing market adoption of Micron Technology's TLC (triple-level cell) 3D NAND based products.
Revenue growth drivers
The enterprise and cloud SSD market is expected to grow at a CAGR[2. compound annual growth rate] of 15.0%. Micron is looking to capitalize on this growth by expanding its SSD portfolio.
Over the past few months, the company introduced the 5100 SATA (Serial Advanced Technology Attachment) SSD platforms for cloud AND 9200 NVMe-based[3. nonvolatile memory] SSDs for enterprise and cloud. Micron Technology is focused on enterprise and cloud SSDs, which command a higher price.
Next, we'll look at the overall trend in the enterprise and cloud data center and examine the potential growth in this market.