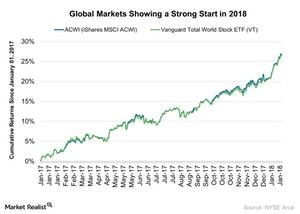 A Look at Emerging Markets PMI Reports in December 2017
Key economic indicators
These key emerging markets indicators were released last week:
China's (FXI) services PMI
China's (YINN) manufacturing PMI
Brazil's services PMI
Brazil's (EWZ) manufacturing PMI
India's services PMI
India's (INDA) manufacturing PMI
In our previous series, we noted that the manufacturing activity of major developed nations (EFA) showed strong improvement in December 2017 while the services activity of such developed nations showed some weakness.
Article continues below advertisement
Series overview
In this series, we'll analyze the manufacturing and services activity of major emerging nations (EEM) in December 2017. It's vital for global investors to analyze the economic activity of developed and emerging nations.
In this series, we'll focus on the performance of three major emerging nations—China, India, and Brazil's—and their manufacturing and services activity in December 2017. The performance in the global markets also depends on emerging and developed nations.
In the next part of this series, we'll analyze the performance of India's manufacturing PMI in December 2017.