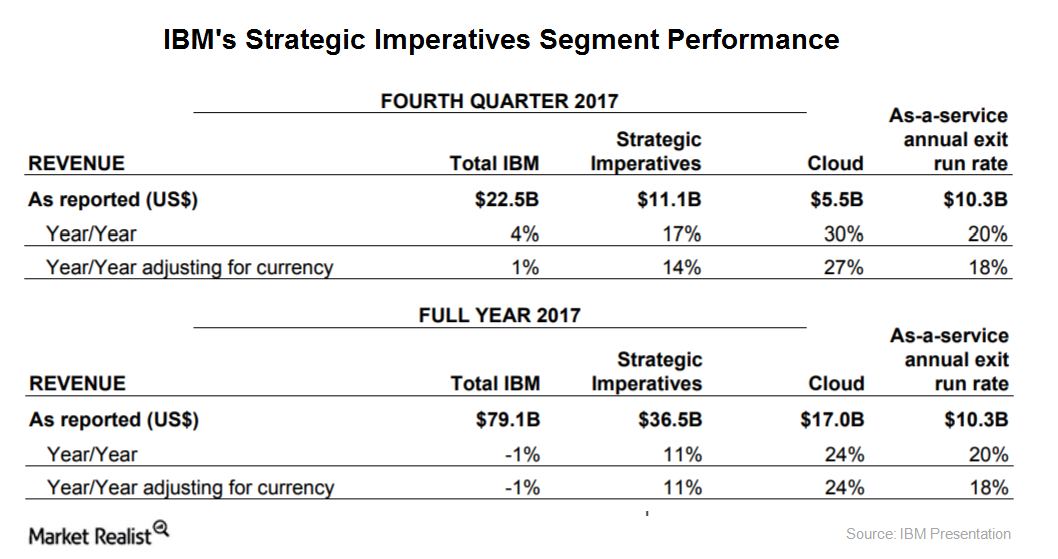 How IBM's Strategic Imperatives Performed in Fiscal 4Q17
Strategic Imperatives segment continues double-digit growth
Earlier in the series, we discussed IBM's (IBM) geographical revenues and the impact of currency fluctuations, especially the US dollar's (UUP) impact on the company's fiscal 4Q17 results. Now we'll look at IBM's strategic imperatives segment performance in the last quarter. IBM's Strategic Imperatives segment refers to the company's investments in cloud, analytics, mobile, social, and security technologies. This segment rose 17.0% and 11% to $11.1 billion and $36.5 billion, respectively, in fiscal 4Q17 and 2017, respectively.
Article continues below advertisement
The growth in this segment can be attributed to security business revenues, which skyrocketed 49%, cloud business revenues, which grew 20%, analytics, which grew 9%, and mobile business revenues, which grew 7%. In the last 12 months, Strategic Imperatives has brought in $36.5 billion in revenue, which is ~46.0% of the company's overall revenue. In the past, IBM predicted that its Strategic Imperatives segment would account for 40.0% of its business by the end of 2018 and be worth ~$40.0 billion. Though the segment's contribution has crossed the 40% benchmark, annual revenues of this segment are yet to reach $40 billion.
Strategic Imperatives segment growth is not on par with investments and expectations
Continuing its trend of highlighting the importance of Strategic Imperatives in IBM's growth, Ginni Rometty, IBM's chair and CEO, said, "Our strategic imperatives revenue again grew at a double-digit rate and now represents 46 percent of our total revenue, and we are pleased with our overall revenue growth in the quarter."
Though Strategic Imperatives reported growth of 17% in 4Q17, this growth was only 11% in constant currency terms. Given IBM's investments to push its Strategic Imperatives segment, investors likely were looking for steeper growth from these initiatives. Some market participants thought that growth in the Strategic Imperative segment was not enough to offset the loss of revenues in other segments.