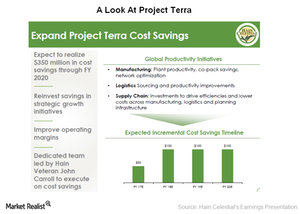 Hain Celestial's SKU Optimization and Project Terra Efforts
SKU optimization
Hain Celestial (HAIN) has undertaken a massive SKU (stock keeping unit) optimization program. In fiscal 4Q17, the company stated that it had streamlined 20% of its US inventory.
SKU optimization is a process by which a company makes a call on whether to continue selling a product or take it off the shelves. By discontinuing products that don't contribute much to sales or profitability, a company can bring down inventory management and storage costs. Reducing SKUs also helps a company to make its supply chain leaner and more efficient.
Article continues below advertisement
In fiscal 1Q18 (which ended on September 30, 2017), Hain Celestial said that its top 500 SKUs across the United States had contributed 93% to its total sales across all channels. The company also added that nearly 7% of the brand portfolio, or 1,500 SKUs, had witnessed sales falls of over 30%. Hain remains focused on streamlining its portfolio. The company is also aggressively cutting costs through its Project Terra initiative.
Project Terra
Launched in fiscal 2016, Project Terra is Hain Celestial's global cost-savings program aimed at improving its operating margins. Margins across the consumer and retail sector continue to be marred by intense price cuts and escalating costs related to logistics, marketing, and brand investments.
Under this plan, the company aims to achieve $350 million in savings by fiscal 2020. In addition to its portfolio rationalization, the company is streamlining its manufacturing plants, copackers, and supply chain processes to bring down costs. In fiscal 2018, the company will be pumping ~$40 million–$50 million into enhancing its brand visibility.
The company achieved its targeted savings in fiscal 2017. In each of the fiscal years 2018, 2019, and 2020, the company expects to achieve $100 million in savings. In fiscal 1Q18, the company reported savings of $16 million under Project Terra. It invested $6 million in marketing brands mostly in the United States. It deployed another $3 million to negate increasing commodity and freight costs.
Peers ConAgra (CAG), the Campbell Soup Company (CPB), and General Mills (GIS) continue to face margin pressures on account of higher logistics, transportation, and input costs. These retailers also have put in place extensive cost-containment efforts to cushion margin growth.