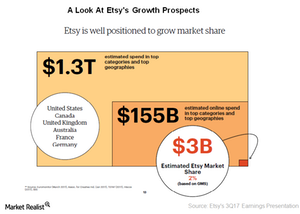 Etsy in 2017: A Year of Sweeping Changes
Headwinds faced by the company
Etsy (ETSY) was founded in 2005 by Robert Kalin, Chris Maguire, and Haim Schoppik as a place to facilitate the buying and selling of unique handmade and vintage goods. The company went public in April 2015.
After the IPO, Etsy faced a variety of issues. Its expenses were rising while its sales growth was decelerating. The company reported a series of subdued quarterly performances that led to a bloodbath on the trading front.
Article continues below advertisement
In March 2017, activist investor Black-and-White Capital sent a letter to the board of directors, noting that the company had a variety of execution and corporate governance issues. It was Black-and-White Capital's view that these issues didn't allow the company to monetize revenue growth opportunities effectively.
Etsy's stock price performance had been dismal, and at that time it was trading 37.0% below its IPO value of $16.00.
Activist investors put pressure
To add value for shareholders, Black-and-White Capital suggested exploring strategic options such as a potential sale. Etsy is considered a potential takeover target with possible suitors being eBay (EBAY), Walmart (WMT), and Amazon.
In May 2017, activist investors TPG Group Holdings and Dragoneer Investment Group revealed 4.3% and 3.7% stakes, respectively, and urged the company to take strategic alternatives to unlock shareholder value.
Roadmap for the future
In response, Etsy announced in June 2017 that it would put more focus on its growth initiatives and would start containing costs. As part of streamlining its cost structure, the company eliminated 22.0% of its headcount (230 positions) in 2017.
The management team was also overhauled. Josh Silverman replaced CEO Chad Dickerson, Mike Fisher was named chief technology officer, and Rachel Glaser was named the chief financial officer.
Etsy said it would focus on enhancing trust and reliability for buyers and optimizing its market spending. The company stated that it was focusing on improving its search and discovery capabilities on the platform to aid buyers.
The company has also been working on providing newer services and tools for its seller community. The company stated that its new mission is to "keep commerce human."
In the next article, we'll discuss Etsy's growth strategies in detail.