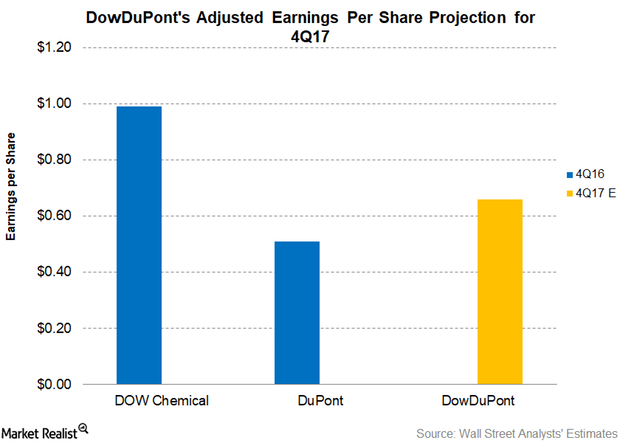 What Could Drive DowDuPont's Adjusted Earnings in 4Q17?
DowDuPont's 4Q17 adjusted EPS estimate
DowDuPont (DWDP) is expected to post an adjusted EPS (earnings per share) of $0.66 in 4Q17. In 4Q16, Dow Chemical reported an adjusted EPS of $0.99, while DuPont reported an adjusted EPS of $0.51. DowDuPont might be able to beat analysts' EPS estimates and repeat its performance in 3Q17. DowDuPont posted an adjusted EPS of $0.55 in 3Q17.
DowDuPont announced steps to materialize the cost synergy after the merger. The cost synergies will be achieved primarily by reducing the global workforce, select asset shutdowns, procurement synergies, and consolidating buildings and facilities. After DowDuPont starts to work towards materializing the cost synergy, its operating expenses are expected to decline from the current levels.
In 3Q17, on a pro forma basis, DowDuPont's selling, general, and administrative expenses reduced as a percentage of sales from 9.30% in 3Q16 to ~8.60% in 3Q17—an improvement of 70 basis points on a year-over-year basis. The trend is expected to continue in 4Q17.
Article continues below advertisement
DowDuPont's new share repurchase program
On November 2, 2017, DowDuPont announced a $4 billion share repurchase program without a deadline. At the end of 3Q17, DowDuPont had 2,350 million outstanding shares. With the new share repurchases program, it remains to be seen if DowDuPont makes any share buybacks during the quarter and boosts the earnings per share.
Investors can get indirect exposure to DowDuPont by investing in the Vanguard Materials ETF (VAW), which has invested 18.0% of its portfolio in DowDuPont. VAW also provides exposure to Monsanto (MON), LyondellBasell (LYB), and Air Products and Chemicals (APD) with weights of 5.40%, 4.0%, and 3.70%, respectively, as of January 23, 2018.