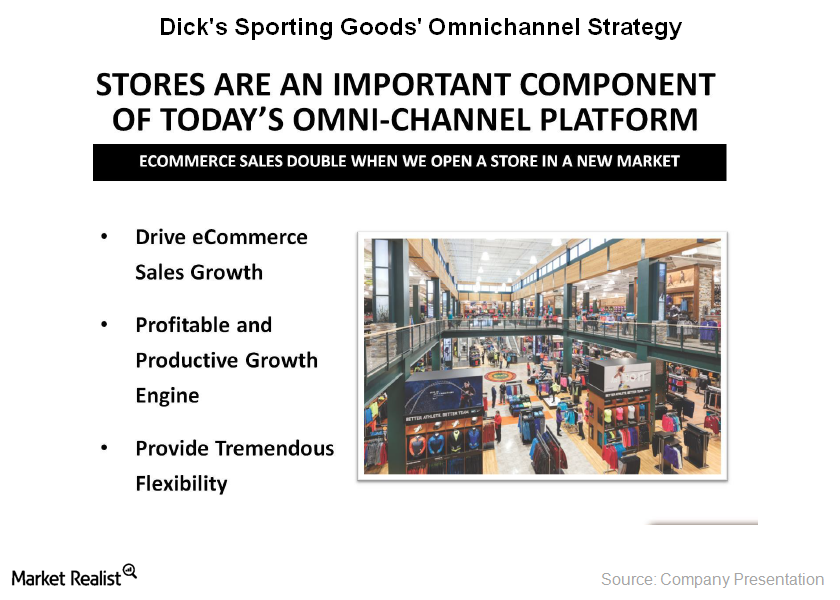 Dick's Sporting Goods' Growth Strategies in 2018
Investments in e-commerce and omnichannel
Dick's Sporting Goods (DKS) is overhauling its strategies to drive revenue and margin growth in an environment that has been marred by intense competition and price rivalry.
To thrive in such a challenging environment, Dick's Sporting Goods is now investing in e-commerce and omnichannel capabilities. The company is revamping its stores (both physical and online) by facilitating faster checkout. It is enhancing its ship from store, buying online, and pickup from store facilities to improve customers' shopping experiences.
Further, its store staff members are being trained to better deal with customers. The company is also making changes to its ScoreCard loyalty program. The accrued points will now be carried forward from one year to the next. Also, the company aims to introduce a new tier for its premium members.
Article continues below advertisement
Dick's Team Sports HQ
Dick's Team Sports HQ is getting a facelift. Launched in 2016, the platform helps budding sports leagues across the US with a variety of services. It helps leagues get registered online and provides them with customized uniforms and fanwear. The platform also helps these leagues gain access to sponsorship deals and donations.
The company believes that this platform has the potential to generate newer avenues of revenue growth over the next few years.
Private brands in focus
Dick's Sporting Goods (DKS) is focused on enhancing its private brands business. The company is confident that product differentiation and exclusivity could help drive sales of brands like Top-Flite, CALIA, Field & Stream, and Walter Hagen amid intense competition.
Dick's Sporting Goods has projected sales from private brands to top $1.0 billion in fiscal 2017, and the company noted that revenues could double "over a relatively short time." The company is planning to launch several new brands. In fiscal 3Q17, its private brands business' comparable store sales saw a double-digit increase and margins grew 30 basis points on a year-over-year basis.
The company is also streamlining its inventory as well as its vendor list, with 20% to be rationalized in fiscal 2017 to contain costs and ease management complexities.
In the next article, we'll focus on the company's store expansion strategy.