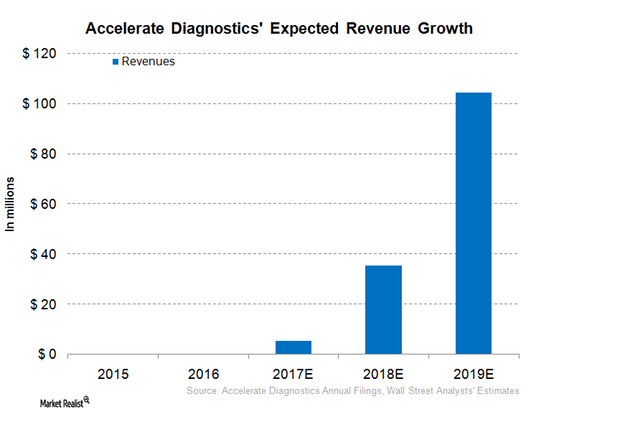 Does Accelerate Diagnostics' Financial Performance Bode Well?
Revenue projections
The net sales of Accelerate Diagnostics (AXDX) increased from $24,000 in 3Q16 to $828,000 in 3Q17. For fiscal 2017 so far the company has generated revenues of $2 million compared with $207,000 for the first nine months of fiscal 2016.
This growth has been on the back of the commercialization of the Accelerate Pheno systems and Accelerate Pheno BC kits after FDA approval in February 2017.
For fiscal 2017, Accelerate Diagnostics is expected to report revenues of $5 million, while peers Becton Dickinson (BDX), Bruker (BRKR), and Thermo Fisher Scientific (TMO) are expected to report revenues of $12 billion, $1.7 billion, and $20.5 billion, respectively.
Article continues below advertisement
Operating expenses
The company's operating expenses, which include research and development expenses and selling, general, and administrative expenses, remained relatively flat at $17.9 million for 3Q17 as compared with $17.4 million for 3Q16.
Research and development expenses, in particular, fell by 19% from $7.8 million in 3Q16 to $6.3 million in 3Q17. This decrease was due to the company reaching the commercialization stage of its products with FDA approval in February 2017.
On the other hand, sales, general, and administrative expenses rose 21% from $9.5 million in 3Q16 to $11.6 million in 3Q17. This increase was due to an uptick in salaries, as the company increased efforts for sales and marketing activities of its products.
Bottom line trend
The net loss of the company fell from $17.3 million for 3Q16 to $17 million for 3Q17. This helped the company report earning per share of -$0.31 for 3Q17 compared with -$0.34 for 3Q16. The average outstanding shares of the company rose from ~51.2 million in 3Q16 to 55.3 million in 3Q17. This denominator effect also helped in the uptick in the earnings per share of Accelerate Diagnostics.
Accelerate Diagnostics makes up about 0.03% of the Vanguard Russell 2000 ETF's (VTWO) total portfolio holdings.
In the next part of the series, we'll look at some key positive factors for Accelerate Diagnostics.