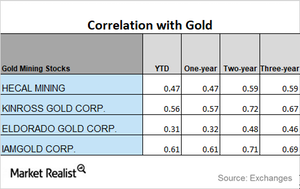 Correlation Reading of Miners and Funds in the Last 3 Years
Correlation to gold
Gold is the most influential among the four precious metals and mining stocks to follow its price trend. In this part, we'll discuss the correlation movement of miners like Hecla Mining (HL), Kinross Gold (KGC), Eldorado Gold (EGO), and IamGold (IAG)
The prices of mining-based funds are also closely related to precious metals. Precious metal mining funds are known to have a strong correlation to precious metals. The Global X Silver Miners Fund (SIL) reacts firmly to price fluctuations in silver miners, while funds like the Sprott Gold Miners (SGDM) respond closer to gold miners. SIL and SGDM have risen 2.2% and 2.4%, respectively, on a five-day trailing basis.
Article continues below advertisement
Reading the trends
During the past year, IamGold has seen the highest correlation to gold, while Eldorado Gold has the lowest correlation. The correlation of the miners to gold over the past year has been moderately lower compared to previous years.
Among the four miners that we're discussing, all of them have seen a mixed trend in their correlation in the past three years. The three-year correlation for Hecla Mining was 0.59, while its one-year correlation was 0.47. A correlation of 0.47 suggests that Hecla Mining moved in the same direction as gold in the past year.
A brief look at the movement of mining shares to gold is essential. It provides insight into miners' future price direction.