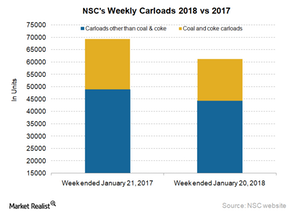 Behind the Fall in Norfolk Southern's Shipments in Week 3
By Samuel Prince

Updated
Norfolk Southern's shipments
In the third week of 2018, Norfolk Southern (NSC) witnessed a steep fall of 11.7% in carload traffic. This major Eastern US railroad hauled ~61,200 carloads in that week compared with slightly less than 69,300 carloads in the corresponding week of 2017.
Compared with US railroads' (IYJ) carload loss of 7.6%, Norfolk Southern reported many deep cuts in percentage terms in the week ended January 20, 2018. However, during this week, NSC's rival CSX (CSX) registered a higher carload traffic loss of 14.1% than NSC reported.
Beginning in 2018, CSX has reported lower carloads compared with NSC so far. The market share loss concerns were echoed in CSX's 4Q17 earnings report, when its CEO, James Foote, vowed to win back customers.
Norfolk Southern's coal (BTU) and coke carloads comprised 27.5% of total carloads in the reported week of 2018, down 2.0% from 29.5% in the third week of 2017. Coal and coke commodity group carloads fell 17.6% in 2018, crossing over 16,800 units.
The share of other than coal and coke carloads fell to 72.5% from 70.5% in 2017. The company hauled more than 44,300 carloads excluding coal and coke in Week 3 of 2018, down 9.3% from the levels in 2017.
Article continues below advertisement
Ascending and descending carload commodity groups
For Norfolk Southern, the following commodity groups' volumes were higher in Week 3 of 2018:
chemicals
pulp, paper, and allied products
The commodity groups that recorded a major volume loss during the same week were:
petroleum products
food and kindred products
motor vehicles and equipment
grain
metals and products
NSC's intermodal volumes in Week 3
Unlike its carload traffic losses, Norfolk Southern (NSC) registered a marginal 1.5% gain in intermodal volumes in Week 3 of 2018. As the third-ranked railroad in the US, NSC moved ~78,300 containers and trailers in that week compared with ~77,200 units in 2017.
Container traffic rose 0.8% to slightly less than 70,700 units. Trailer volumes expanded 8.4% to ~7,700 units from nearly 7,100 units in Week 3 of 2017. On a combined traffic basis, Norfolk Southern reported a 4.8% railcar traffic loss, while this metric was 2.9% for US railroads (GWR) overall in Week 3 of 2018.
We'll assess CSX's (CSX) freight volumes in the next section.