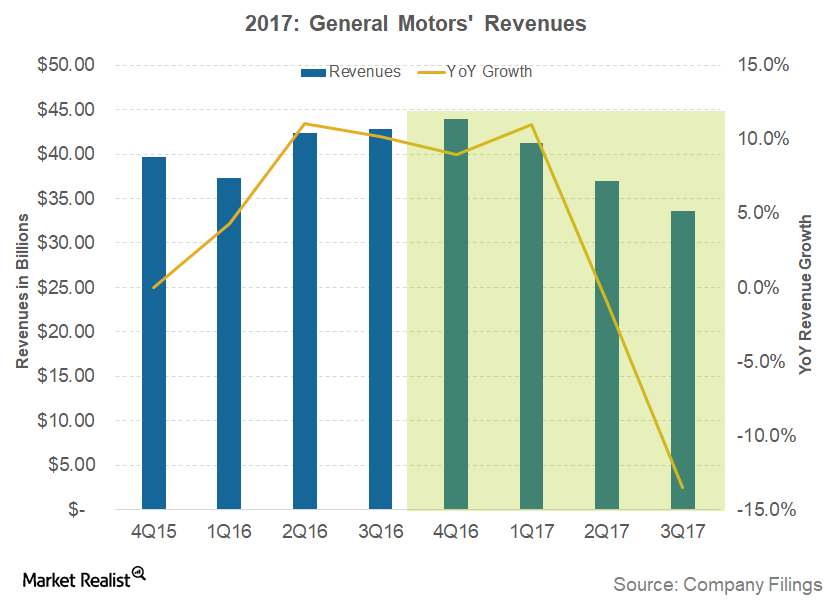 Analyzing General Motors' Falling Revenues in 2017
General Motors
In the previous part, we looked at how General Motors' (GM) US retail sales showcased a marginal drop while its China sales have strengthened in the first 11 months of 2017.
A minor drop in US retail sales and the company's strategy to cut fleet sales have taken a toll on its revenues in the last couple of quarters. Let's take a closer look.
Article continues below advertisement
Analyzing revenues
In 1Q17, General Motors' revenues stood at $41.2 billion, up 11% over $37.3 billion in 1Q16. This positive revenue growth was driven by continued focus on the US Retail segment and its higher sales volume in North America and South America during the quarter.
In contrast, the company's 2Q17 revenues came in at $37.0 billion. This reflected a decrease of 1.1% over $37.4 billion in the corresponding quarter of the previous year.
In the second quarter, GM's global sales volume declined by 2.0% YoY (year-over-year) to ~2.3 million units, which hurt its revenues. For the quarter, the company reported a 5.9% YoY decline in its North America market revenues.
In the third quarter of 2017, General Motors' revenues stood at $33.6 billion, demonstrating a massive drop of 13.5% compared to $38.9 billion in 3Q17. One of the primary reasons that lowered its 3Q17 revenues was weaker car demand (XLY) in North America.
European market revenues
Note that these revenues excluded the company's European market revenues, which GM announced that it would exit in early 2017. GM took this decision as a part of its strategy to boost profit margins by exiting unprofitable markets, including Europe and India, where it has faced challenges in the last couple of years.
Auto companies such as Ford (F), Toyota (TM), and Fiat Chrysler (FCAU) also have faced challenges in European market after Brexit. However, they continue to expand their presence in order to gain market share in the hope of a sharp recovery.