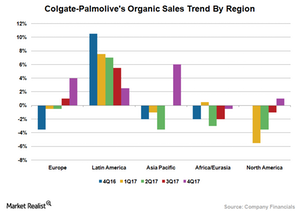 Analyzing Colgate-Palmolive's Regional Sales in 4Q17
Pricing remained a drag
Colgate-Palmolive (CL) witnessed improved volumes across several regions thanks to the improvement in volumes driven by new products supported by increased advertising. However, lower pricing restricted the company's top-line growth rate. As the graph below shows, the company's organic sales marked strong sequential improvement in the Asia-Pacific and Europe regions. Meanwhile, North America returned to growth. Also, the company's sales in Latin America remained strong. However, the region is showing a slowing sales growth rate both sequentially and on a YoY (year-over-year) basis.
Article continues below advertisement
Sales by segment
The company's top line in North America increased by 1.0%, reflecting higher volumes partially offset by lower pricing. The company witnessed heightened pricing pressure in the liquid hand soap and hand dish categories. In the oral care category, the company managed to improve its market share in both toothpaste and toothbrushes driven by growth in premium brands that include Tom's of Maine and Colgate Optic White.
In Latin America, Colgate-Palmolive's net sales gained 4% driven by strong volumes in Brazil owing to the new product launches supported by increased advertising investments. Plus, favorable currency rates added 1.5% to the company's top line. However, lower pricing remained a drag. Going forward, the company expects to generate strong volumes in Brazil driven by new oral care product launches in the fast-growing pharmacy channel coupled with a robust product pipeline in the personal care category.
The company's top line improved significantly in Europe driven by higher volumes in Germany, Italy, and France. Moreover, favorable currency rates further contributed 9.0% to the company's top-line growth. However, lower pricing remained a drag. A significant increase in advertising spending helped the company to expand its market share. Meanwhile, growth in the Elmex and Meridol brands drove the company's market share in Germany, its largest market in Europe.
Colgate-Palmolive's sales in the Asia-Pacific region rose 6.0%, reflecting increased volumes in India partially offset by declines in the Philippines and Greater China. Pricing improved 1.5%, while currency movements added 3.5% to the top-line growth rate.
The company's organic sales in the Africa/Eurasia region declined 0.5% on a YoY basis as lower volumes and flat pricing remained a drag. However, favorable currency rates lifted its net sales growth.