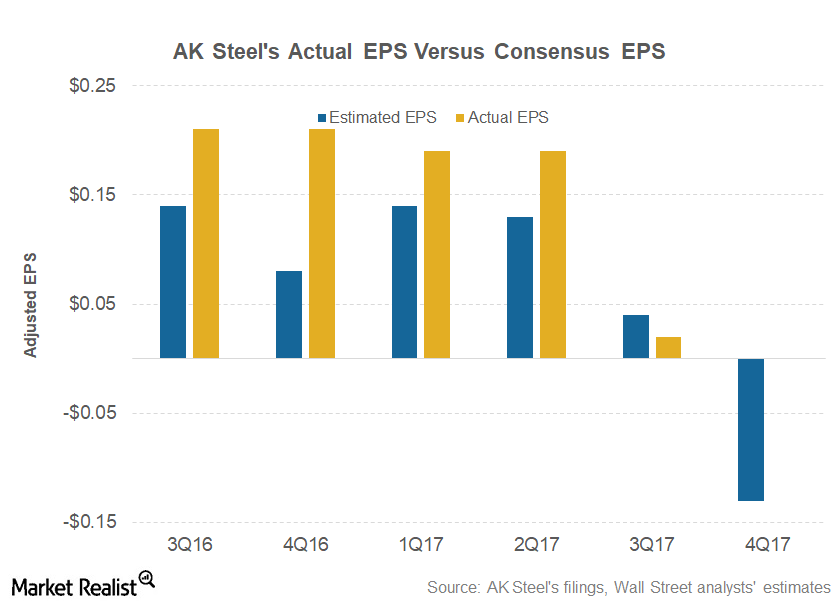 Could AK Steel's 4Q17 Results Keep Investors' Optimism Alive?
AK Steel's 4Q17 results
AK Steel (AKS) is scheduled to release its 4Q17 earnings results on January 30, 2018. Nucor's (NUE) 4Q17 results are also expected that day. U.S. Steel Corporation (X) is slated to release its 4Q17 results on January 31, after markets close, and will hold its 4Q17 earnings call on February 1. ArcelorMittal's (MT) 4Q17 earnings results are scheduled to be released on February 10.
Article continues below advertisement
Price action
This year is turning out to be a strong one for AK Steel. The stock, which lost 44.5% last year, had gained 13.8% in 2018 as of January 19. AK Steel has been on an uptrend since December. As we noted in Why 2018 Could be Better for AK Steel, a mix of macro and company-specific factors could help AK Steel stock this year.
Series overview
AK Steel was an outlier in 3Q17. The company's 3Q17 earnings fell well short of analysts' estimates, and the stock saw massive selling pressure after its earnings release, closing at a loss of 21.5% on October 31, 2017. Most US-based steel producers (XME) saw upward price action after their 3Q17 earnings releases. Along with the earnings miss, AK Steel's 4Q17 guidance spooked markets.
In this series, we'll see what analysts are projecting for AK Steel's 4Q17 earnings and compare their 4Q17 estimates with the company's guidance. Finally, we'll look at key points markets might watch for in AK Steel's 4Q17 earnings call. Let's begin by looking at AK Steel's 4Q17 revenue estimates in the next article.