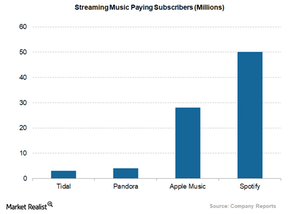 How Acquisition of Shazam Could Benefit Apple
Apple (AAPL) has finally decided to purchase UK-based (EWU) music recognition app Shazam Entertainment.
Apple acquires Shazam
Apple (AAPL) has finally decided to purchase UK-based (EWU) music recognition app Shazam Entertainment. The deal came after five months of discussions. The deal price is close to $400 million, according to TechCrunch and Recode. Founded in 1999, Shazam was once valued at $1 billion in 2015 and has raised more than $143 million from investors including DN Capital Limited, Institutional Venture Partners, and Kleiner Perkins Caufield & Byers.
Article continues below advertisement
Article continues below advertisement
How the deal will benefit Apple
Shazam is a popular music and image recognition app that can be used on both Android and iOS and can identify almost any song, TV show, movie, or advertisement from its vast database. It was one of the first applications to be offered by Apple's App Store in 2008. Though the company could generate only $54 million in revenue from this app in 2016, it has gained significant popularity since then and is used across multiple platforms. In fact, the app has seen over 1 billion downloads as of September 2016.
Shazam's music recognition app already works with Apple's digital assistant Siri and music provider Spotify. While Apple Music has been multiplying since its launch in 2014 with about 30 million paid users, it lags behind the market leader Spotify, as can be seen from the chart above. Snapchat has also collaborated with Shazam so Snapchat users can engage with Shazam content and send their music as Snaps to their friends.
The company can now integrate Shazam more seamlessly with its products and services just like Alphabet's (GOOGL) Google Pixel smartphones, which have an always-on song identification feature that displays song names without being asked. The acquisition of Shazam is expected to help Apple Music improve the experience of users and let users play songs on its platform. It also allows users to buy music directly via iTunes. The acquisition could also benefit Apple due to Shazam's increasing push into augmented reality (or AR) technology.