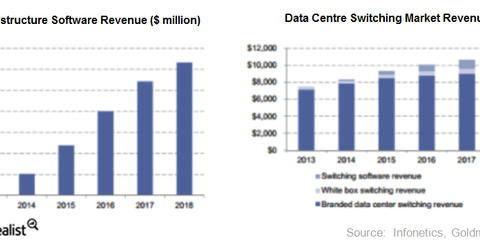 VMware's VeloCloud Acquisition: The Trend It Points To
By Anne Shields

Updated
VMware and Cisco transition toward subscription-based model
Earlier in this series, we saw how VMware's (VMW) acquisition of VeloCloud could be ramping up competition with Cisco Systems (CSCO) in the SD-WAN (software-defined wide-area network) space.
VMware's acquisition of VeloCloud and Cisco's acquisition of Viptela hint of a trend toward a preference for subscription-based business models. Both VeloCloud and Viptela offer software-based pricing for their cloud solutions. Their acquisition is in sync with VMware's and Cisco's strategies as they transition toward the subscription revenue model. Subscription revenues are recurring, and they're often preferable because they provide visibility to future growth.
Is SD-WAN set to become a billion-dollar market in the future?
According to IHS Markit's report, although SD-WAN generated $137 million in global revenue in the first half of 2017, it's expected to reach $3.3 billion by 2020.
The above chart from Goldman Sachs (GS) Research estimates that the global SDN (software-defined networking) infrastructure software market is expected to grow to $1.3 billion by 2018. This space is seeing increased adoption and is expected to form 40% of the global enterprise network infrastructure revenue by 2020. That amounts to roughly $12.7 billion, as reported by TBR Enterprise SDN Market Landscape.
Currently, SDN is a small space but is expected to witness huge growth since companies such as VMware and Cisco are expected to increasingly enter into partnerships with vendors to launch overlay systems. Network overlay is used to implement an SDN architecture. An overlay network is a storage or computer network that is built on top of another network and connected by logical or virtual links.