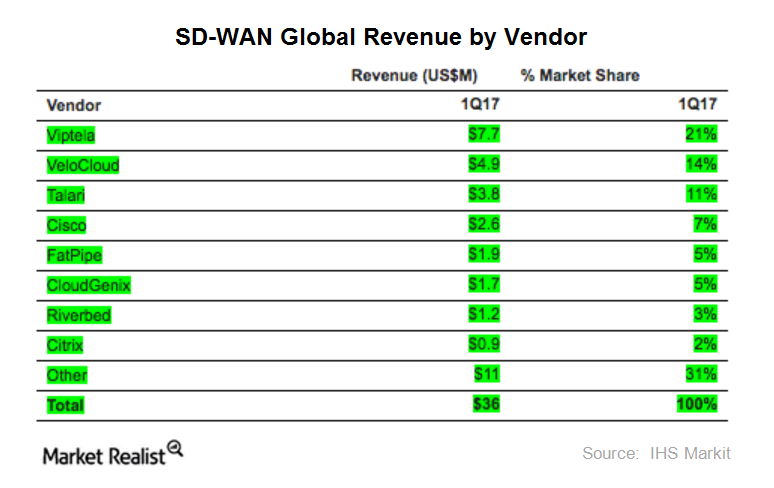 VMware's Acquisition of VeloCloud: Start of Mergers in SD-WAN?
VMware is threatening Cisco's position in SDN space
Earlier in this series, we looked at VMware's (VMW) strategic acquisition of VeloCloud. With the acquisition, VMware could be posing a threat to Cisco Systems (CSCO) in the SDN (software-defined networking) space.
In May 2017, Cisco announced the acquisition of Viptela for approximately $610 million to enhance its offerings in the SD-WAN (software-defined wide-area network) market. Viptela's technology enables the application of SDN to WAN, connecting remote facilities. Instead of depending on hardware to design, manage, and monitor networks, SDN employs open software protocols.
According to Cliff Grossner, senior research director and advisor for the cloud and data center at IHS Markit, "VMware and Cisco have acquired the two SD-WAN market share leaders, making the SD-WAN market a two-horse race for the number-one spot."
The table below shows the global revenue of leading vendors in the SD-WAN space. It indicates the duopoly that happened with the acquisition of Viptela by Cisco and VeloCloud by VMware.
In October 2016, VMware announced a partnership with Amazon (AMZN) that led to the formation of VMware Cloud on AWS (Amazon Web Services). Not the one to lag behind, Cisco announced a hybrid cloud partnership with Google (GOOG), squaring itself directly against VMware.
Article continues below advertisement
SDN space set to witness more buyouts and acquisitions
Grossner further said, "And we could see even more consolidation as vendors set out to add SD‑WAN to their capability sets, especially since the technology is key to supporting connectivity in the multi-clouds that enterprises are building."
Could VMware's (VMW) acquisition of VeloCloud be the start of an M&A (merger and acquisition) spree in the SDN space? We'll have to wait and see as VMware and Cisco try to outsmart each other.