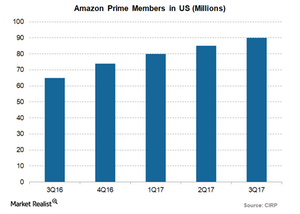 Amazon Unveils Amazon Prime in Southeast Asia
Amazon's Prime goes to Singapore
Amazon (AMZN) has finally launched its Prime membership in Singapore, thus expanding its reach in the fastest-growing region of Southeast Asia. Singapore is the 16th country in which Amazon has launched Prime and the first in Southeast Asia. The e-commerce giant has already been serving the Southeast Asian region with its Prime Now service, which was launched in Singapore in July.
Article continues below advertisement
Article continues below advertisement
What is the scope of Prime in the Southeast region?
The company's expansion in Southeast Asia seems to be lucrative as the region is densely populated and has attracted investors due to increasing growth of Internet services.
Prime membership will cost $6.70 compared to $99 in the United States. Further, Prime members will enjoy perks like free shipping, same-day delivery, and access to Prime videos and Twitch Prime services. However, in Singapore, Amazon's Prime members will get free international shipping on orders above $45 on more than five million items in comparison to over 50 million in the US. The company plans to offer additional benefits to Prime users over time.
In Southeast Asia, Amazon Prime will compete with Alibaba's (BABA) regional e-commerce subsidiary, Lazada, which has launched a Prime-like membership service in April called LiveUp. LiveUp subscribers get free shipping on some products and receive grocery delivery within 24 hours. Also, LiveUp subscribers get benefits from Uber, UberEats, as well as Netflix's (NFLX) online video service.
Amazon Prime is a success