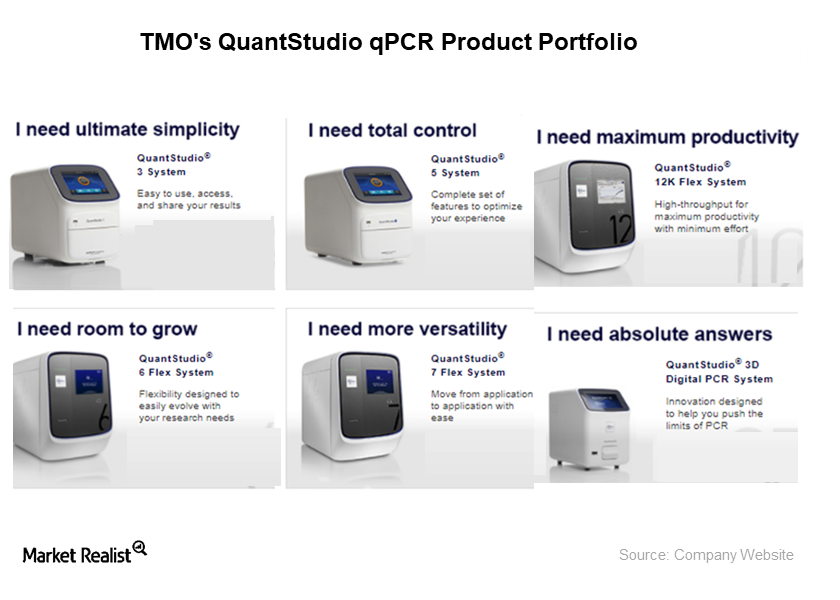 Thermo Fisher Expands Its Partnership with Genome Diagnostics
By Sarah Collins

Dec. 28 2017, Updated 9:04 a.m. ET
TMO's partnership with GenDx
In December 2017, Thermo Fisher Scientific (TMO) expanded its partnership with Genome Diagnostics (or GenDx), a Netherlands-based firm offering molecular diagnostics solutions. The partnership entails a non-exclusive global reseller agreement for Thermo Fisher Scientific's Applied Biosystems QuantStudio real-time PCR systems.
In April 2017, the two firms had entered into a similar partnership for the global reselling of Thermo Fisher Scientific's Ion Torrent next-generation sequencing systems.
According to a report on Genome Web, GenDx and its distributors are now authorized to include "QuantStudio 5, QuantStudio 6 Flex, and QuantStudio 7 Flex, as well as service contracts for their use in human leukocyte antigen typing and chimerism monitoring in their respective countries."
Article continues below advertisement
Benefits of the partnership
Thermo Fisher Scientific's QuantStudio qPCR product portfolio offers laboratory software systems for researchers. It is part of Thermo Fisher Scientific's Applied Biosystems brand of products. GenDx's software and reagents with TMO's QuantStudio systems form a workflow to monitor the chimeric status of stem cell and bone marrow recipients.
The agreement enables GenDx to provide laboratory support for those performing low-resolution HLA (human leukocyte antigen) typing, which is used for establishing a match between donor and patient prior to organ transplants.
According to an industry research report, the HLA typing market is expected to grow at a compound annual growth rate (or CAGR) of 9.2% from 2017 to 2021. Bio-Rad Laboratories (BIO), Abbott Laboratories (ABT), and Illumina (ILMN) are some of the key vendors in the HLA typing market.
For diversified exposure to Thermo Fisher Scientific, investors can consider the Vanguard S&P 500 ETF (VOO). TMO makes up ~0.33% of VOO's total holdings.