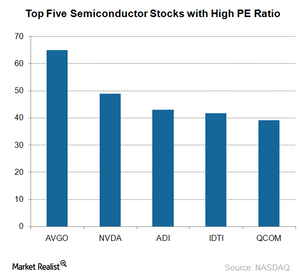 Why Semiconductor Stocks with High PE Ratios Are So Important to Investors
Price ratio
Every investor has different needs, and naturally, investors tend to look at stocks that meet their needs. Long-term investors generally look at a company's fundamentals and growth potential before investing.
At the same time, investors want to invest in a stock at the right price. A company's price ratio helps us compare its stock price with fundamentals such as earnings, sales, and cash flow to understand its true valuation.
Article continues below advertisement
PE ratio
The PE (price-to-earnings) ratio is the most common ratio used by investors because it tells us the amount that investors are willing to pay per dollar of EPS (earnings per share). A high growth company may have a high PE ratio, which can make it look overvalued next to more mature companies.
The highest-valued semiconductor stocks
As of December 22, 2017, Broadcom (AVGO) had the highest PE ratio of 65x, followed by NVIDIA (NVDA) at 48.85x, Analog Devices (ADI) at 42.95x, Integrated Devices Technology (IDTI) at 41.65x, and Qualcomm (QCOM) at 39.1x.
Broadcom
Broadcom is currently the most expensive stock at $258.1. The stock has grown significantly over the past few years through major acquisitions. These acquisitions have increased the size of the company, thereby helping it benefit from the economies of scale. The company's investment in future growth prospects made investors and analysts bullish on the stock.
On average, analysts expect AVGO to grow to $325 over the next year and are recommending that investors buy the stock, based on the recent correction in stock's price.
We'll assess the other four stocks in the next part of the series.