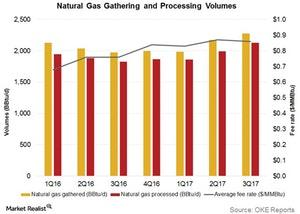 ONEOK's Gas Gathering and Processing Fee Rates Increased
Gas gathering and processing volumes
ONEOK's (OKE) Natural Gas Gathering and Processing segment's gathered natural gas volumes rose to 2,278 BBtu/d (billion British thermal units per day) in 3Q17—compared to 1,977 BBtu/d in 3Q16. The gas processing volumes rose to 2,128 BBtu/d in 3Q17 from 1,829 BBtu/d in 3Q16. The segment provides gathering, compression, treating, and processing services to producers.
The segment owns 20,400 miles of gathering pipe. It has 21 processing plants with 1,830 MMcf/d (million cubic feet per day) capacity.
Article continues below advertisement
Contract structures
ONEOK achieved an increased fee-based contract mix for its Natural Gas Gathering and Processing segment by restructuring its percent-of-proceeds contracts to include a higher fee component.
In percent-of-proceeds contracts, the company gathers and processes natural gas on behalf of the producer customer. The NGL (natural gas liquids) produced from the processing are sold and the company remits a previously agreed percentage of the proceeds from the sale to the producer and retains the rest. So, the price of natural gas and NGLs impact the revenues of the company providing the processing services.
As a result of ONEOK's contract restructuring efforts, the segment's earnings have increased in recent quarters. Its average fee rate rose 13% in 3Q17—compared to 3Q16.
Hedging
As of September 30, 2017, 89% of the segment's natural gas volumes, 66% of condensate volumes, and 87% of NGL volumes were hedged for the three months ending December 31, 2017. The hedged percentages are 83%, 77%, and 79%, respectively, for the year ending on December 31, 2018.
Next, we'll analyze the volumes growth for ONEOK's Natural Gas Pipelines segment.