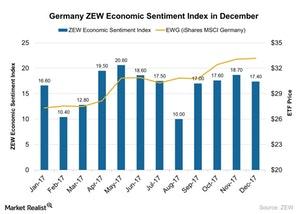 Germany ZEW Economic Sentiment Index in December 2017
Germany ZEW Economic Sentiment Index
According to data provided by the Centre for European Economic Research (or ZEW), the Germany ZEW Economic Sentiment Index is at 17.4 so far in December 2017 compared to 18.7 in November 2017. Its December reading is missing the market expectation of 18.0.
The index measures the level of confidence that economists have in the economy. Compared to the previous month, the index showed some weakness in December, mainly due to a weak client demand, production output, and new orders. Rising uncertainty about what kind of government will emerge in Germany weakened economists' short-term economic outlook.
Article continues below advertisement
Performance of major ETFs
The iShares MSCI Germany ETF (EWG), which tracks the performance of Germany (DAX-INDEX), has fallen 0.2% so far in December 2017. However, the Vanguard FTSE Europe ETF (VGK), which tracks the performance of the Eurozone (IEV) (N100-INDEX), rose 0.25% in the same period.
Market participants expect the overall Eurozone economy to face some negative impacts from the Brexit negotiations. Some believe it's hampering the performances of the Eurozone's major indexes.
In the next part of this series, we'll analyze the performance of the Eurozone ZEW Economic Sentiment Index in December 2017.