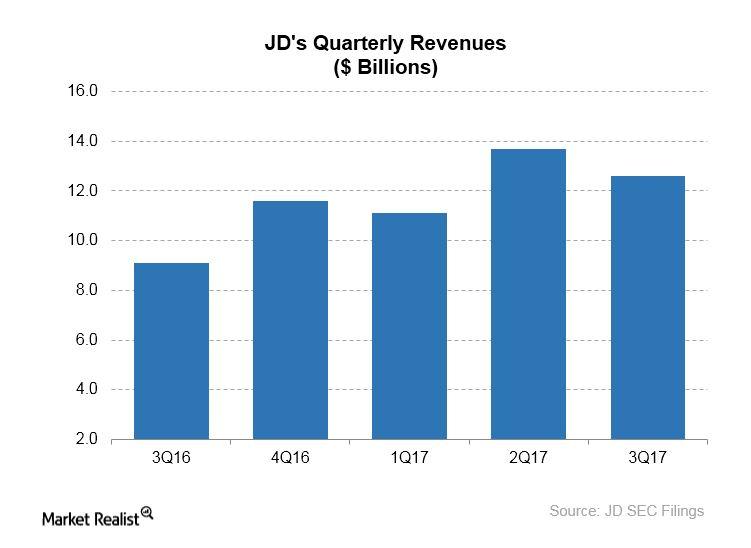 Inside the Expanded JD-Tencent Partnership
Marketing toolkit launched
China-based (MCHI) online retailer JD.com (JD) and social media and digital payments provider Tencent (TCEHY) recently announced that they were expanding their partnership, which revolves around helping brands to better target online and offline shoppers.
The expanded partnership has seen the companies launch JD-Tencent Retail Marketing Solution, which they describe as a comprehensive toolkit for understanding consumer shopping behavior. The toolkit will be presented as a database that features insights on consumer behavior from Tencent's social media platforms and shopping data from JD and its merchant partners.
Article continues below advertisement
The idea is to enable brands to better understand consumer preferences so that they can craft the most relevant marketing campaigns. JD's marketing chief, Lei Xu, said that the expanded integration with Tencent would enable the companies to paint a complete profile of a shopper, which would go a long way toward closing the loop across China's fragmented retail landscape.
Building on the 2015 collaboration
The collaboration that resulted in the launch of JD-Tencent Retail Marketing Solution was built on the partnership that JD and Tencent forged in late 2015 when they joined forces to offer brands mobile marketing solutions (QQQ).
Taking on Alibaba
JD's expanding partnership with Tencent is one of the many steps that it has taken recently as it battles Alibaba (BABA) for control of China's e-commerce market. The competition between JD and Alibaba is seeing both companies trying to blur the line between the online and offline shopping experiences. They're also enticing shoppers with quick delivery services.
JD recorded a 39.2% YoY (year-over-year) rise in its quarterly revenue in 3Q17, compared to the 61% YoY revenue growth recorded by Alibaba in the same quarter.