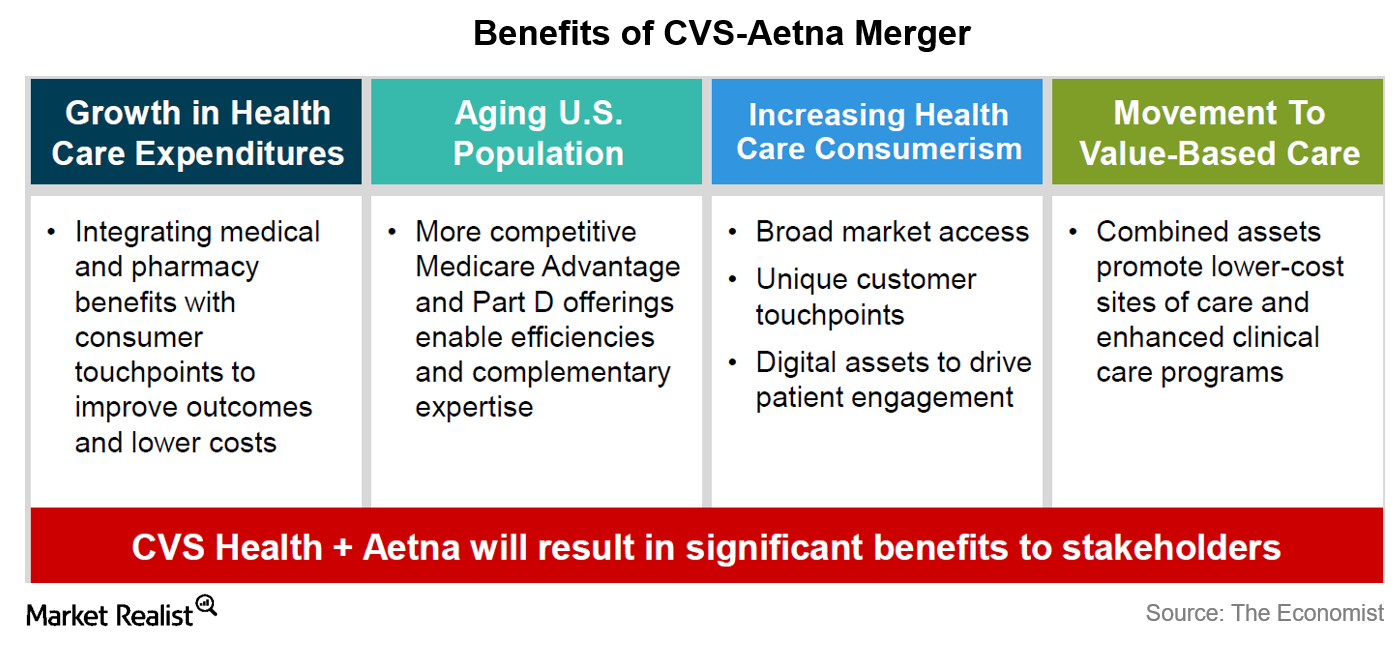 How CVS Could Benefit from Aetna Merger
By Sonya Bells

Dec. 4 2017, Updated 10:10 a.m. ET
A deal between two giants
As we discussed in the last part of this series, CVS Health (CVS) announced its intention to acquire Aetna (AET) for $207 per share, or $69 billion. The deal will combine a pharmacy behemoth with America's third-largest health insurer.
Article continues below advertisement
CVS-Aetna merged entity
With 9,700 pharmacies under its umbrella, CVS Health is the largest pharmacy chain in the US. It is also the largest operator of retail health clinics in the country and operates around 1,100 clinics under its Minute Clinic banner. The company is also among the most significant pharmacy benefit managers and has a presence in the long-term care pharmacy industry through Omnicare.

Acquiring Aetna would vertically integrate CVS further. The merged entity will be able to offer companies a one-stop shop for health insurance for their workers. The transaction will provide a significant opportunity for CVS to drive business to its retail stores and mail order pharmacy, while Aetna can provide care to customers directly at CVS's retail stores.
Aetna will operate as a separate entity within the larger company led by the company's current management team. Aetna's chair and CEO, Mark Bertolini, and two other of the company's directors will be a part of CVS's board.
The merged entity will offer most basic health facilities. It will be able to better position itself in an increasingly competitive healthcare space, especially in the event of the much-talked-about possible entry of Amazon.
CVS management emphasized the enhanced ability of the merged entity to provide cheaper healthcare as well as convivence to its customers. "We look forward to working with the talented people at Aetna to position the combined company as America's front door to quality health care, integrating more closely the work of doctors, pharmacists, other health care professionals and health benefits companies to create a platform that is easier to use and less expensive for consumers," said Larry Merlo, CVS Health's president and CEO.
"The traditional health care system lacks the key elements of convenience and coordination that help to engage consumers in their health. That's what the combination of CVS Health and Aetna will deliver," added Merlo.