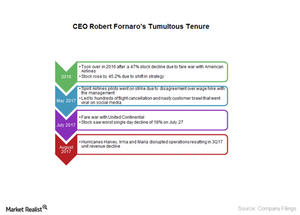 Fornaro's Turbulent Ride and Achievements at Spirit Airlines
Fornaro's tumultuous run
Spirit Airlines (SAVE) stock fell significantly in 2015 before its current CEO (chief executive officer) Robert Fornaro took over in early 2016. Spirit's former CEO, Ben Baldanza, followed a strategy of expanding aggressively in major hubs of legacy carriers, particularly in Dallas–Fort Worth, which is an important market for American Airlines (AAL).
However, the strategy failed when American Airlines introduced economy fares and started matching Spirit's low fares in a bid to retain market share. That led to a sharp decline in unit revenues for both carriers. For Spirit, it was bad news since profitability declined significantly. The markets also reacted unfavorably, leading to a sharp fall of 47% in SAVE stock in 2015.
When Fornaro took over, he continued Spirit's aggressive expansion but moved away from legacy carrier markets and focused more on less serviced routes. Investors reacted positively, and the stock rose 45.2% in 2016.
Article continues below advertisement
In 2017, Spirit Airlines' problems resurfaced. Its pilots went on strike at the end of April due to a disagreement with management over wages. As a result, it had to cancel thousands of flights. Passengers were naturally angry, and the situation turned ugly at Spirit's Fort Lauderdale, Florida, airport where Spirit employees got into a fight with passengers. To make things worse, a video of the fight went viral on social media.
As things were stabilizing, another problem surfaced. United Continental (UAL) decided to follow suit with aggressive expansion and began matching Spirit's low fares in some hubs. When news got out, Spirit stock fell a huge 18% in a single day (July 27, 2017). Then, in August, Hurricanes Maria, Harvey, and Irma led to more losses.
Article continues below advertisement
Improving Spirit's image
Fornaro has worked hard to improve Spirit's image. In addition to improving customer service, he made large strides on some key parameters.
SAVE's on-time performance has improved greatly. For October 2017, SAVE was ranked third on the metric according to the Department of Transportation. That's a huge improvement since Spirit has historically been last. For the 12 months ended in October, Spirit Airlines ranked tenth for on-time performance.
Spirit Airlines also has a huge cost advantage compared to other carriers. Even low-cost carrier Southwest Airlines (LUV) has a 38% higher cost structure than Spirit. That gives Spirit more capability to endure the ensuing price wars. Spirit's management also estimates that the cost gap will only widen as the carrier expands capacity at a faster pace than its peers.
SAVE's cost advantage with improved reliability for customers could prove to be a formula for success. In the next part of this series, we'll see how SAVE stock has reacted to the latest news.
Investors can gain exposure to Spirit Airlines by investing in the First Trust Nasdaq Transportation ETF (FTXR), which has 1.2% of its portfolio in SAVE.